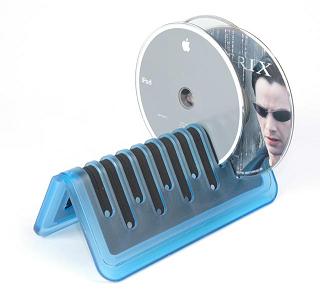 Simplicity. It's sometimes the hallmark of a great product. It doesn't have to be over-engineered to be thoroughly effective. The DiscHub (http://www.thedischub.com/) is a perfect example of this. It was built to do one thing and do it well.
The DiscHub is a stylish placeholder for those stray CDs and DVDs that lie cluttered on your desk or entertainment center gathering dust and getting scratched. The second I found out about this product, I knew I needed one (or more!). As much as I attempt to be organized, and replace things after I use them, I get caught up like everyone else in 'busy' mode and the clean-up never happens.
The DiscHub has 11 slots to store CDs and/or DVDs. Adjacent slots are offset from each other, so that you easily roll any disc out of its neoprene-protected slot. The slots are also spaced at just the right distance apart so that you can see some of the CD/DVD label. Just take a look at the picture to see what I'm talking about. The slots hold the discs so securely that you can turn the holder upside down without any of them falling out; you would have to shake it quite forcefully for that to happen.
Last, the DiscHub is tough: made of strong, lightweight plastic, this sturdy device was able to take a fall from about 4′ onto a thin carpet and bounce gracefully without any signs of damage. While I hardly recommend tossing it to the floor regularly, you probably would have to worry more about your discs getting scratched if they fell off a shelf while stored in your DiscHub
Available in 5 colors (translucent blue, translucent green, red, clear, and solid white (aptly titled "Storm Trooper")), the Disc Hub normally retails for $15.99, but is currently being sold at $11.99 for the holidays with free shipping.
We geeks at Gizmos for Geeks heartily recommend the DiscHub. For about the price of a letter holder, you can get something that is functional, cool-looking and sturdy to protect your music and movie optical media.
What's Groovy and What's Sucky
What's Groovy: Everything. Does what it's supposed to do really well.
What's Sucky: Not yet widely available in black. However, as of Dec 2004, there is a limited number available for sale on their site, and if the demand is good, black will become a standard color.
Features
Performance
Quality
Value
Very stylish, translucent colors, effective form factor, functional, sturdy.
Perfect. Holds discs upright and securely with enough spacing so you can see at least some of the labels.
Straightforward, yes, but not cheap. Strong, lightweight materials. Bright colors.
Excellent. You won't remember how you lived without it.
Overall
It was quite easy to give this product 5 stars. I couldn't think of anything that I would/could do to improve it.