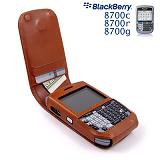 The Geeks received a SENA Blackberry 8700 Leather Case to review and since I'm a Treo guy and don't have a Crackberry, I asked one of the executives at my company to give the SENA case a full test. Using the SENA case with his Blackberry for a few weeks, he performed real world tests that any executive would encounter including carrying the Blackberry everywhere and even dropping it a couple times! Read on to see what he thought of the case.
The SENA Blackberry 8700 leather case is Great – with a capital "G�. I have been using it now for several weeks and am completely satisfied with it.
The quality of leather is very good. The stitching has held up will and remains nice and tight. All the case cut outs are perfectly aligned with the controls providing unfettered access. The case has several nice "touches� including a screening over the blackberry speaker opening, 3 slots for business/credit cards on the inside flap, and a magnetic catch on the flip-face that also will terminate a call and dim your screen when closed.
I have dropped my blackberry several times and the case has done its job! The only thing that took a little getting used to was the face flap against the side of your head when talking on the phone. Also, on occasion, when talking on the phone the flap would inadvertently close and this would "hang up� the call. So, you need to watch that a bit.
Lastly, I have to admit that I am not a "wear it on your belt� type of guy so I have not really tested out the belt clip but in just looking it over, it seems to be pretty well made with a strong clasp. I tend to just carry my blackberry in my pocket and I will say the case does not add a huge amount of bulk to the package and I appreciate what seems to be a "lower than average� profile belt clip nipple on the case. Someday I hope that they will think to make those removable!
You can purchase and learn more about SENA cases from SENA's website.
What's Groovy and What's Sucky
What's Groovy:
The magnetic catch on the flip-face terminating a call and dimming the screen when closed and the quality of the leather are quite groovy.
What's Sucky:
The only sucky part of the case was just mentioned in the "groovy" section! Sometimes you can accidentally terminate calls if the flip-face closes during a call.
Overall

Overall I am very pleased with the case and would give it a 4.5 out of 5 – not so much because I would do anything different if I were designing it but I hate to give perfect scores. We need to keep folks out there continuing to work for perfection.