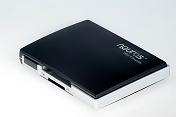 Do you have an underutilitzed portable video device because of the hassle involved to convert your video from your DVR or other video feeds? Do you still watch the same three overpriced movies you bought on UMD in your PSP wishing that you could easily transfer other video content to use on its gorgeous display? Neuros believes they have the solution for you with their MPEG4 Recorder 2. Read on to see if we agree.
Neuros Technology International LLC are the creators of the Neuros line of digital media devices including their MPEG-4 Recorder 2 and MPEG-4 Recorder 2 Plus. The Recorder series of products aim at helping consumers provide their own content for mobile devices such as the Sony PSP. The Recorder 2 records video content from any video source directly to various formats of memory cards allowing consumers to then view that content easily in their mobile media player.
In particular, Neuros seems to target the MPEG-4 Recorder 2 towards Sony PSP users.
With a screen size that's more than twice the size of the iPod's and with more advanced video capabilities, why hasn't there been more buzz about the PSP as a portable video player? The number on answer: lack of inexpensive and easily available content.
PSP users really have only had a couple options for viewing video content on the device. The first option is to purchase movies using Sony's proprietary UMD format. UMD (Universal Media Disc) is a high-capacity optical medium used for gaming and video content on the Sony PSP. UMD is a dying format for movies as Sony discovered that for the most part consumers prefer to watch their movies using DVDs and simply did not want to purchase the same movie on a different format. Another method is to purchase a PC capture card and manually convert and transfer files to the PSP. This method takes a bit of time for setup and is not for the standard consumer. Finally, the last method is to obtain video content digitally then convert to the proper format needed by your handheld device. You can grab video from various "sources" on the Internet, but we prefer to extract video from our hacked DVR. While there are a number of new software packages helping to convert your video, you still need to be comfortable with the inards of a machine (PC or TiVo) before you have to worry about which software package to use. Because of these "choices", PSP users tend to just use the device as a gaming platform. With 16.77 million colors in a 4.3 inch 16:9 wide screen format TFT LCD… that's just a shame.
PSP users are not the only people to struggle with the challenge of obtaining and watching video on their portable devices. iPod video users tend to pay $2.99 for videos or TV episodes that they already can record at home for free or as part of a satellite or cable service. Mobile phone users usually spend $15 to $30 per month for video content.
Neuros attempts to solve this problem with their MPEG-4 Recorder products. The Neuros Recorder 2 simply plugs into the video-out jacks on a video source such as a DVR, cable box, satellite receiver, VCR or even a DVD player. You then plug a memory card in. The Recorder 2 accepts various MS Duo and compact flash memory cards. The Recorder 2 Plus also supports SD series and MMC series memory cards. Next, you are ready to record. Hit the 'Record' button on the remote. When finished you pull out the memory stick and insert into your mobile media device and watch your recorded content. Basically, the MPEG-4 recorder acts like a digital VCR with a memory chip as the media.
The device itself is .75 inches tall by 4.75 inches wide by 3.5 inches deep. The unit is shipped with a remote, AC adapter and two sets of composite A/V cables which have the standard yellow, red and white RCA jacks on one side and a minijack that plugs into the Recorder on the other side.
To test the unit, I hooked it up to a standard DirecTV receiver, a DirecTiVo unit and a DVD/VCR combo unit. I recorded a live show from the DirecTV receiver, a recorded show from the DVR and parts of a DVD and a VHS tape. The test portable media player I used to view the recorded content was a Sony PSP.
The Neuros MPEG-4 Recorder 2 worked as advertised. In fact, I found out that the device ignores Macrovision which allowed me to make a backup copy of my "Joe Piscopo Live" VHS Halloween special from 1988 (horrible cheesy 80's special but includes an incredible organ playing "Toccata and Fugue in D Minor").
The true highlight of the product is the ease of use for PSP owners. Neuros records to the correct folder on your Memory Stick Duo allowing you to unplug from the Recorder 2 and plug and play in the PSP. If you've ever had to convert and transfer files by hand, this feature will make you smile.
The Economy setting works fine if nothing moves in the video. I'm sure on the smaller video iPod screen the Economy setting would look ok, but on the PSP you really need to use Normal or even the Fine setting to record video. The Fine setting can be taxing on the MS Duo memory chips since these memory chips are still quite pricey (over $50 for 1GB).
While recording is simple, navigating the unfriendly menus to set quality and do other tasks (video recorded videos or play MP3s) proved to be slightly challenging; however, the challenge was easily overcome by glancing at the manual. Another issue I had with the MPEG-4 Recorder 2 was that recording takes place in real time. That means if you have a hour long episode, it takes a full hour to record to MPEG-4. Also, if you hit pause or fast forward you see that on the recording.
One last note about Neuros, the company truly does stand for openness. The latest product offering even stands for "Open Source Device"! They believe their mission is to make sure your content can play everywhere without hassle while companies like Sony create proprietary and locked down solutions to grab more of your money. The MPEG-4 files produced by the Recorder 2 can be played back on all other portable devices besides the PSP including the iPod, PCs (Windows/Mac/Linux) and other handheld video portable media players (PMPs).
Overall

Overall, the Neuros MPEG-4 Recorder 2 performs as advertised and really makes moving video content to portable devices easy. For the amount of time saved to easily record content for use on my Sony PSP, the $129.99 price tag definitely seems reasonable. Better yet, you could win a free Neuros MPEG-4 Recorder 2 from DVR Playground by simply telling us your favorite DVR Accessory (before November 20th).