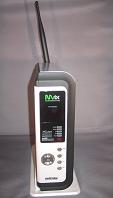 The Mvix Wireless HD Media Center (MX-760HD) is the latest media center product from Unicorn Information Systems Co. Ltd. featuring "outstanding visual quality, supported by leading-edge video decoding technologies, high resolution audio specifications and the capability from wireless connectivity to home and office networks", the MX-760HD represents the next generation of the popular HD-based media centers. Read on to see what the Geeks think of the latest Mvix product.
MvixUSA is the distributor in the United States of products manufactured by Unicorn Information Systems Co. Ltd. which is based out of Korea. MvixUSA carries several media centers including the MV-4000U, MV-5000U, MV-5000R and the MX-760HD ranging in price from $169 to $329. In addition to the units you can include a bundled 300GB for $119, a 400GB for $169, a 500GB for $219 or a 750GB drive for $359 as well as the option to purchase Car Adapters and IR Extenders.
The Geeks have been playing with the Mvix MX-760HD since firmware v1.1.15 through two additional firmware versions including v1.1.17 and the latest as of this writing of v1.1.25. The next firmware version is rumored to unleash the ability to FTP to the unit as well as turn the device into a NAS unit. For now we'll review the unit with the currently available features.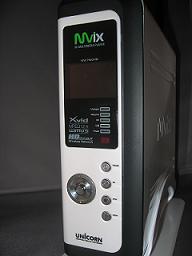 The Mvix MX-760HD has a small form factor and only stands 7.6" tall, 7.4" wide and 2.3" deep which is slightly larger than previous versions of the Mvix family of products, but definitely retains it's portability. During the test period the MX-760HD went on vacation providing [ripped] movies and old TV episodes that were stored on the MX-760HD.
Using the Sigma Designs SEM8621L chip, this media center can decode hi-def video through HD Component (480p, 720p, 1080) and HD DVI (480, 720, 1080i and 1080p) with files encoded in WMV, ASF, AVI and MP4 formats. In addition, the chip can decode video codecs including DivX (3/4/5), AVI, Xvid, MPEG, MPG, VCD(DAT), DVD (VOB/ISO), ISO, WMV, ASF, TP, TS and TRP and audio codecs including MP3, WMA, AAC, OGG, PCM and AC3. In addition to these formats, you can view images in BMP, JPG and PNG.
Now that we've gone through all the TLAs (three letter acronyms) of the various formats that can be decoded, a few popular formats we found lacking were the video format of H.264, the audio format of FLAC as well as GIF images. The SEM8621L chip in the MX-760HD does not support H.264 however the other formats could be added via firmware updates.
In addition to the aforementioned video outputs of Component and DVI, the MX-760HD has support for Composite and S-video and audio output including Stereo RCA, 5.1 channel RCA and coaxial and optical digital audio out.
Not only does the MX-760HD support high definition video, the MX-760HD now sports a WiFi antenna! Not only can the MX-760HD stream media content over a wired network, but the added WiFi supports 802.11b/g or Pre-N MIMO. Starting with firmware v1.1.17, WPA wireless network security was enabled (hopefully no one is still using WEP!). As far quality, the wired streaming always looks fine while wireless streaming sometimes will jump depending on the content.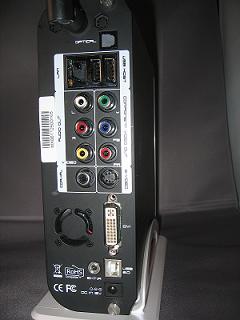 Finally, the MX-760HD has a few USB ports including two USB-host ports and one USB2.0 port. So what? Well, the USB-host ports are great to add more storage in the form of an external USB hard drive as well as a DVD player in the shape of an external DVD drive. This is another huge improvement over previous versions and opens up some possibilities including downloading the latest Ask a Ninja vlog entry or your kid's favorite TV show overnight to a USB drive and simply plug in the USB flash drive in your car for your work carpool or to keep your kids occupied while running errands.
A nice (and necessary) feature the Mvix MX-760HD media player has is the ability to quickly and easily upgrade (or downgrade) firmware versions. The latest firmware can always be downloaded via MvixUSA's web site. We've noticed a new firmware version being released roughly every month or so as of late. Currently the Mvix community is waiting for the next version of the firmware that is rumored to have NAS and FTP support which would unequivocally make this player the absolute king of media players. This firmware is rumored to be out in the next two weeks or so (by the end of April).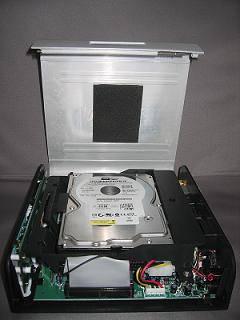 You can purchase a unit with a hard drive bundled but in case you don't, your first step in setting up a MX-760HD is to install a 3.5" PATA hard drive. The only trick here is to make sure your hard drive is setup as primary and not cable select ("CS"). No tools are needed to install the hard drive and any true geek can get the job done within thirty seconds. The non-Geek crowd can probably accomplish the task in under one minute. The new design is much easier to work with than the Mvix MV-5000U.
While I say the first step is installing the hard drive, you can actually use the MX-760HD without a hard drive. For instance, you can network the box and load media off Windows or Samba shared directories or simply plug-in a USB flash drive, USB external hard drive or USB CD or DVD drive to the USB-host ports.
If you decide to install a hard drive you can use the USB2.0 port to connect the MX-760HD to your computer to transfer files to the device. If the USB2.0 port is connected you cannot use the MX-760HD to view your media files however.
Once we had a hard drive installed we transferred some media files including DVD ISOs, DVD VOBs/IFOs, downloaded video content, quite a few MP3s as well as several JPGs. The time to transfer these files to the MX-760HD was consistent with transferring files to other USB2.0 external drives.
In addition to transferring over media content to test the device with, I also downloaded the latest firmware version from MvixUSA. During the testing period I went through two releases of firmware showing that the product's software is still under development. The upgrade process is really quite simple and only takes a few minutes.
Next, using DVI in 1080i, Component in 720p and Composite in SD, I viewed the various formats of files on these three separate displays and the video output was very good especially the DVD ISOs (losslessly ripped) on the LCD screen using DVI at 1080i. Audio quality was excellent through both Stereo RCA and Optical Digital Audio as well.
For the next test we hooked the MX-760HD to the Ethernet port and then later to a wireless connection. With the unit wired, playback from network shares was simple to setup although I had to install NWLink IPX/SPX/NetBIOS Compatible Transport Protocol which I usually do not install on my machines. Once that change was made to my network settings on my networked computer and I refreshed the Mvix, the shares simply appeared. Navigating through directories was as simple via the network shares as via the internal hard drive. The playback through the wired network was very smooth. Next I tested the wireless connectivity using first a network with no encryption then a network with WPA installed. Using firmware v1.1.17 I was unable to connect to the non-encrypted wireless network, but firmware v1.1.25 fixed that issue. Other than that one snafu, setting up wireless was very easy. Playback of the media over wireless was mostly smooth but every so often I noticed a hiccup. While the wireless feature is convenient, if you plan on streaming your media content you may want to connect the MX-760HD to the network using the wired Ethernet port.
After playing with network streaming, we tested other ways of playing content not located on the internal drive using Mvix's MX-760HD USB-host ports. First we connected a USB flash drive then a USB external hard drive. The media content played off both devices with no issues. Next we tested a USB DVD drive and were able to read content off that device (as long as it was not copyrighted) with no issues.
Basically, the Mvix MX-760HD is a portable media center which was useful in bringing movies and TV shows on vacation and to friends and family's houses but can also be used to connect to your media content located on various devices and network shares around your home.
You can learn more about the product at Mvix Community or the US distributor's web site as well as purchase the unit directly from MvixUSA, NewEgg, Amazon, ThinkGeek and other retailers for a suggested price of $349. For a list of the rest of the places around the world you can purchase the MX-760HD, see this forum thread.
What's Groovy and What's Sucky
What's Groovy:
Mvix's new product, the MX 760-HD, includes most of the features that users feel are lacking in other portable media center products on the market today. Quite simply, the Geeks find this Linux-based product groovy.
The MX-760HD improves upon the MV-5000U and MV-4000U products by including wired and wireless networking, USB-host support, additional audio/video/image CODEC support, support for high-definition and a much better remote control (which was my biggest complaint with the MV-5000U).
What's Sucky:
The Geeks have noticed that Linux-based media devices tend to lack a simple to use and incredibly intuitive user interface. While geeks simply know how to navigate a directory structure and can understand what the difference is between a HDD1 (internal hard drive on the MX-760HD) and network shares, the typical consumer may have issues with the navigation on the MX-760HD.
Also, since the MX-760HD has networking built-in now, not being able to use the device as NAS (networked attached storage) takes a partial point away. There are rumors that the next firmware upgrade will include this ability which would make the MX-760HD a truly great product.
Finally, due to the Sigma Designs SEM8621L chip, H.264 decoding is not and will not be available on this device. Naturally, a new version of the product could improve this situation quite easily.
We definitely recognize the advances made in the MX-760HD over previous Mvix products.
Overall

Mvix's newest portable media center, the MX-760HD, allows you to bring a media center full of your favorite songs, pictures, videos and DVDs with you while you are on travel or becomes your high-definition media center player at home with access to USB flash drives, other USB drives and network shares.
While we can't give the MX-760HD five stars primarily due to the graphical user interface , the MX-760HD definitely deserves a high rating.