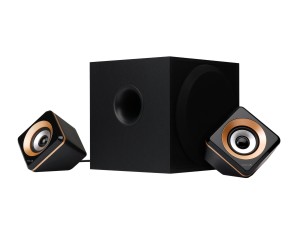 Kinivo sent the Geeks a sample of the Kinivo M2 Bluetooth Speaker system which is a 2.1 speaker system designed for computers, smartphones and tablets for testing. I've tested the Kinivo speaker system using Bluetooth from a Mac, iPhone, iPad and Samsung S4 as well as NFC on the Samsung S4… yes, Bluetooth AND NFC. If you are looking for either a budget or nice wireless speaker system that plugs into AC, you should read on.

First of all, the system comes with a subwoofer and two wired satellite speakers. The subwoofer includes the connected AC power cord, audio in/out ports, all of the controls and buttons and serves as a base unit for the two wired satellite speakers. The 56-watt system has a full sound with the subwoofer and enough volume where I cannot turn the volume up too high without bothering my neighbor's when listening to tunes outside on the deck. The sound quality is above the Kinivo M2's class and is quite amazing for the price point.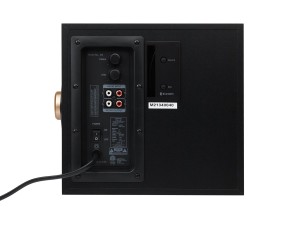 There are multiple ways to connect into the Kinivo M2 Speaker System including wireless and wired. Creating the wireless pair and connect Bluetooth enabled devices including computers, smartphones and tablets is simple and quick. You can also wirelessly connect via NFC too. Finally, you can connect to the 3.5mm audio port via the old fashioned wired connection.
The front of the subwoofer unit includes a large light-up volume control and the bass and treble have adjustable controls on the rear of the unit as well as buttons to setup the wireless connections and to change from the auxiliary wired port and wireless connectivity.
The unit looks great with a mixture of glossy and matte black, bronze and silver colors and the light surrounding the large volume button looks great.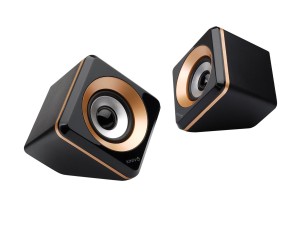 Overall I was completely surprised how full the sound was and how deep the bass could go for such an inexpensive Bluetooth speaker system. You add in the aesthetics of the unit and the ease of use of connecting devices to play either wired or wirelessly, the Geeks would recommend a purchase of the unit at the manufacturer's price of $119.99.
Right now, the speaker system is currently on sale at Amazon for $69.99 and well worth every penny especially at that price. You can even get a second one for $29.99 using the code DEAL4BTX (2 for less than $100)! You can grab one for the house and a second for your kid's dorm room.