At one time or another, every geek has owned at least one Kensington product considering Kensington has been around for twenty-five years and now have an inventory of over three hundred computer accessory products. Kensington creates products that can be categorized into six divisions: "power it", "control it", "carry it", "secure it", "connect it" and "play it". The Geeks have been testing one of their "carry it" products over the past couple of weeks called the Saddlebag Ultra computer case. If you are looking for a new laptop case, you should check out our review.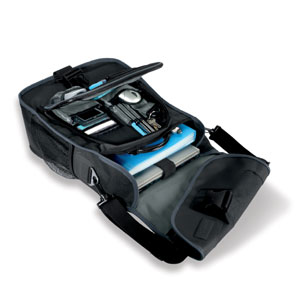 Since Kensington was founded twenty-five years ago, their product line has expanded from the System Saver, a combined cooling fan and surge protector that helped extend the life of Apple IIs, to more than three hundred computer accessory products currently. Kensington products have filled niches and solved products at home, in the office or for during travel. Kensington Computer Products Group, headquartered in Redwood Shores, California, is the technology division of ACCO Brands Company (NYSE:ABD), a world leader in branded office products, with annual revenues of nearly $2 billion and products marketed in more than 100 countries across the globe.
The Saddlebag Ultra is a Messenger style laptop carrying case which is more of a casual looking laptop bag with a full fold over flap opening, but has hideaway backpack straps that convert the case into a backpack. Weighing in at 2.5 pounds, the outer case dimensions are 14.25″L X 16.5″H X 6.5″W and the internal notebook compartment dimensions are 12.5″L X 13.5″H X 1.85″W. The bag we received was all black, but the Saddlebag Ultra comes in blue as well. Kensington's Saddlebag Ultra is stylish, especially if you are looking for a Messenger style bag with some room.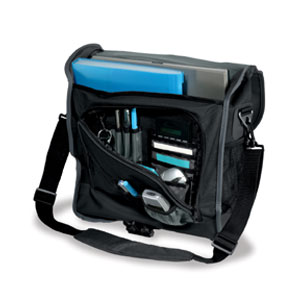 The bag's exterior includes quite a few pockets and zippers. There is a mesh side pocket for a digital camera or water bottle. Also, the bag has two outside pockets, one that closes with a zipper and one that closes with velco. The velcro pocket fits tickets or smaller mobile devices such as cell phones or an iPod. The outside zippered pocket provides a large thin pocket for storage. There is also a zippered reach-through that provides access to the internal organizer. The zipper and pouch in the back of the case are where the hideaway backpack straps are stored.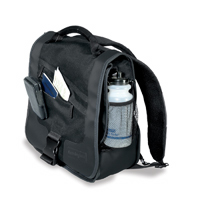 By unbuckling and opening the large flap, the internal organizer and a large pouch are revealed. A protected and padded compartment with a velcro strap and the main pocket which expands for at-a-glance view of files make up the large pouch. I was able to carry two laptops with ease, one in the padded compartment and one in the main pocket. Typically though, I carried a Dell Latitude D810 with a 15.4″ widescreen laptop in the padded compartment and a notepad or two, several magazine and various other papers in the main pocket. The internal compartment has an inner and outer portion! The outer portion has a couple of pen holders, a mesh pocket which holds my Google laptop mouse, a small zippered compartment which stores my USB flash drives and a slightly larger pocket which holds some smaller notepads. Inside the internal organizer there is a large zippered pouch, three more pen holders, a small pouch which holds quite a few business cards and five more small pouches.
The number of pouches and pockets in the Saddlebag Ultra is amazing. I don't even have enough computer accessories and gizmos to fill all the pockets!
Kensington's Saddlebag Ultra provides flexibility in how you carry the bag as it can convert and be carried in four different ways: a longer messenger strap that goes across the neck, a shorter strap that goes off the shoulder, a handle on the top of the bag and a backpack using the hideaway backpack straps.
Finally, Kensington offers a Lifetime Warranty for their SaddleBag Ultra laptop case.
The suggested retail price of the Kensington Saddlebag Ultra is $59.99 and is available directly from Kensington, Amazon and Buy.com.
What's Groovy and What's Sucky
What's Groovy:
The bag is stylish, flexible and full of features so the Kensington SaddleBag Ultra is groovy in general.
What's Sucky:
I found nothing sucky about the bag, I love it!
Features
Performance
Quality
Value
The Kensington SaddleBag Ultra has more features than any other laptop carrying case I have used or seen from four different methods of carrying the case, a zippered reach-through on the flap, a large number of pockets and pouches and an internal organizer.
Using the laptop carrying case over the last couple of weeks, which included a trip, the case performed better than any other laptop case I have used.
The laptop case was made very durable with heavy-duty webbing and reinforced stitching and the case is made with water-resistant canvas and I believe nylon.
Kensington has competitively priced this feature-rich laptop carrying case.
Overall
If you are looking for a messenger style laptop carrying case, look no further as Kensington's SaddleBag Ultra is the perfect solution. I have several laptop bags and cases and have tested quite a few, but I have settled on making the SaddleBag Ultra my permanent laptop bag.