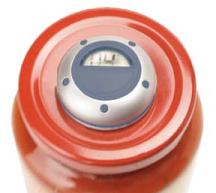 If you've got a refridgerator and you ever buy groceries, then you have definitely had the problem where you couldn't remember how old something in the fridge was. A practical application of technology quickly solves this problem. The DaysAgo digital counter is a small round device with an LCD screen that simply counts days and hours. Just reset it and affix it your food container. Simple, eh? Here's our quick review of this incredibly useful product. Read on to get an exclusive discount.
In a nutshell, these devices work. If anything, I'd mostly like to suggest ways in which they can be improved. But first, a quick rundown: the DaysAgo counter come in 2 types: magnetic and suction cup surfaces. The counters count in hours and days. And as you can see in the picture, they come in 4 bright colors with a simple but elegant style made up of lightweight rubber and plastics. All you need to do to reset and start counting from 0 is press and hold the button on the top for 5 seconds. A blinking dot will tell you if it's keeping time, which it will do for up to 99 days.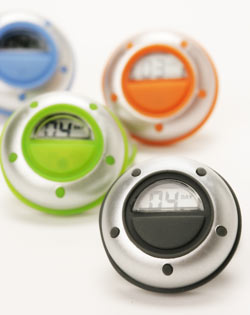 I found the magnetic counters to work great on top of jars. The suction cup was a bit hit or miss on some surfaces. I would have liked the suction cup version to stick better to the sides of tupperware containers, since I like to stack those in the fridge, and having a DaysAgo on top of the tupperware wouldn't work too well. I did notice that the LCD screen became a little cloudy after a while in the fridge, but not to the point of making it unreadable. Here's what I would like to see: a base with one of those super-sticky surfaces that can be re-stuck multiple times to a surface. I suppose the more innovative users would just take some double-sided tape and use it to attach the magnetic versions to their food containers. At $10 to $12 for 2 counters, which will probably last for years, this is a great addition to the techno-savvy user's kitchen.
And we saved the best for last: Gizmos for Geeks readers get an exclusive 25%-off discount if they purchase DaysAgo counters at the DaysAgo website. Just enter the coupon code of "gfg" at checkout.
Overall

Absolutely recommended. Can't wait for the next generation to come out, as they'll have the tweaks needed to make it perfect.