The geeks recently played around with an RCA Akimbo Player to test out Akimbo's video-on-demand service that allows you to download video content that interests you over the Internet and watch it on your TV. Rather than replacing your cable or satellite service, Akimbo provides new and different choices not available through these traditional methods of watching TV. Read on to see what we thought of the Akimbo service.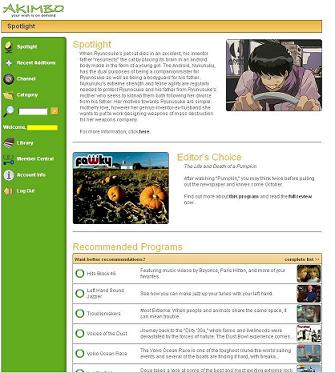 Created in 2003, Akimbo combined video providers to consumer's TVs and PCs by using Internet delivery of the programming. The Akimbo service gives consumers different choices than traditional video content delivery providers offering a large collection of programming from different providers in various genres. Akimbo hosts and manages the video delivery process over the Internet directly to consumers and through partnerships with AT&T and Sonic Solutions.
Connecting the RCA Akimbo Player to your entertainment system is nearly as simple as adding other components. In addition to connecting the Player to a television, you need to connect the device to your home network using either a standard Ethernet cable or wirelessly using a compatible USB adapter. The first time you boot up you need to setup the network then activate the Akimbo service which can be completed via http://my.akimbo.com/activate which allows you to create an account and complete the registration process. At this point the Player automatically downloads the latest programming information and updates the device if any patches exist.
There are two ways to access the Akimbo library, either from the remote included with the RCA Akimbo Player or from the Akimbo web site. My Akimbo, the web interface, allows you to manage your account and provides a portal into the Akimbo service including the ability to update your account information, view your billing information, browse, download and purchase videos through the Akimbo Guide as well as view the programs in your Library. The web interface allows you to purchase a video for later which comes in handy while you are at work! You can also modify Parental Controls on http://my.akimbo.com/. Akimbo provides Parental Controls that allow users to restrict access to certain programming and restrict purchases of programs based on ratings and is protected using a password. The My Akimbo web site is simple and intuitive to use.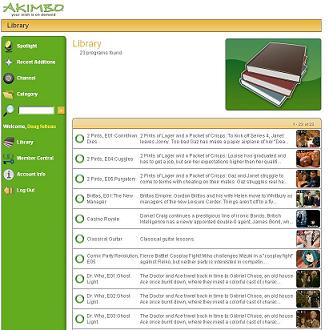 In addition to the Akimbo web site, the Akimbo Guide can be accessed from the remote control. You will notice that the Guide includes several choices including: recent additions, top rated, channel, category, search, Movielink and favorite channels. Some of the more interesting choices in the Guide include top rated, Movielink and favorite channels. The Top Rated section features programs that were voted on by other Akimbo users. Movielink provides Hollywood movies including older movies like Short Circuit and Barbarella as well as the latest movies including Casino Royale. Finally, the favorite channels include channels the Akimbo service recognizes as your most frequently watched channels. While the remote control is a bit bulky on the RCA Akimbo Player, the Akimbo menus are simple to get around and if you can operate a DVR you can definitely use the Akimbo service.
While the RCA Akimbo Player is one form of viewing the content in an easy to use set-top box, you can also subscribe to the Akimbo Service and view the content using a PC Player, Media Center or as part of AT&T's Homezone service.
While the options consumers have to video the content is important, the service and content provided by Akimbo are why most people would either purchase this service or not.
The Akimbo service has grown into the largest Internet-based video-on-demand service with about 165 content partners and over 14,500 programs and growing. Content partners such as the BBC, National Geographic, A&E, Discovery Channel and the Food Network usual include some original shows not seen on TV, classic shows from the channels and some popular specials from the channels. In addition to extending these traditional channels, channels including the Anime Network and StashTV exist as well as video blogs like Rocketboom and CommandN Reviewer. Specialized sport channels such as a weekly NHL wrap-up channel, Ultimate Combat Experience and a subscription-based channel that allows you to follow your favorite Major League Baseball team by watching daily games in a condensed format.
The Akimbo service is know as a "Video-On-Demand" service where users select and watch video content over the Akimbo network where the video content is downloaded in it's entirety to the Akimbo Player before it is viewable. This could be frustrating if you want to watch some content immediately, but you can go to http://my.akimbo.com/ where you can choose a movie from work for viewing later that evening.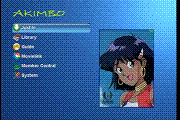 Roughly 40% of the video content available on the Akimbo service is available for free, after the monthly Akimbo charge of $9.99. In addition to the free content available, you can subscribe to memberships on some of the networks as well as purchasing of individual programs. For example, you can purchase a monthly subscription to AnimeOne for $6.99 which allows you to view all content put out by AnimeOne or perhaps you are interested in old school cartoons and the $4.99 subscription with the Golden Age of Cartoons is what you might want. Individual programming ranges from usually $0.99 to $4.99. For instance, older movies like Barbarella are available from Movielink for $2.99 while newer hits like Casino Royale cost $4.99 while Chinese movies are available from Tai Seng Asia Cinema for $0.99. A special on how to cook traditional Trini food including Accras with Mango Dip and Pelau are available for $0.99 while other episodes of different content are available for $0.49 to $0.99 usually.
You can learn more about the choices for service and purchase the service from Akimbo.
Overall

Akimbo is a nice extension to regular TV especially for those interested in Anime, documentaries, Bollywood, cartoons, piano and guitar lessons, cultural cooking, Asian movies and specialized sports. If you are looking for all the latest movies or the latest BBC episodes of your favorite shows, Akimbo is not the perfect choice for you. Also, you need to remember selecting your programs before you are ready to watch as the content needs to be fully downloaded before you can view.