Celestron joins other product-based communities on the web with a new www.myskyscout.com community which concentrates on SkyScout enthusiasts and other fellow stargazers. Read on to check out more information about the site or check out Celestron.com to check out the latest products Celestron offers.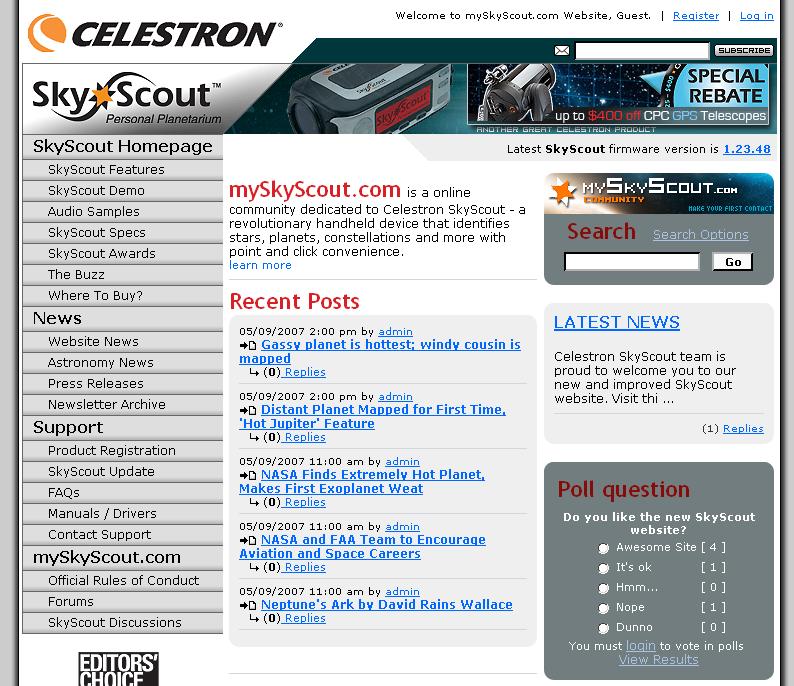 Celestron, one of the world's leading designers and manufacturers of telescopes, binoculars, spotting scopes, microscopes and related accessories, officially announced the launch of an interactive online meeting place for SkyScout and astronomy enthusiasts, MySkyScout.com. In time for the summer outdoor season, Celestron SkyScout's new web community provides earth-bound space explorers with an interactive online forum for sharing ideas, experiences, tips and tricks with fellow stargazers and SkyScout enthusiasts.

Designed to support the growing interest in astronomy and exploration created by the release of Celestron's SkyScout Personal Planetarium, a handheld device that identifies stars, planets, and constellations with point and click convenience, MySkyScout.com is a premier online companion to SkyScout owners and astronomy enthusiasts alike.

A fully integrated news and discussion forum for SkyScout owners, astronomy buffs and backyard stargazers to learn, share and discuss their interests and experiences with astronomy-minded peers, mySkyScout.com features real time information on current celestial events and astronomical happenings, updated news and images, links to product support, software updates, product development news in addition to advice from fellow amateur astronomers.