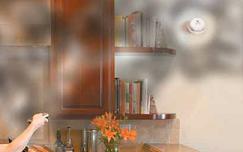 At my last house the builder, in his infinite wisdom, decided to put a smoke and fire alarm in our kitchen within five feet of our oven. Everytime we broiled something in the oven the fire alarm would sound which annoyed my wife and I and downright scared my cat under our bed.
We really could have used the Remote-Controlled Smoke & Fire Alarm so we could use a remote to silence the fire alarm rather than stand on a chair and wave a cookie sheet in front of the alarm to disperse the "smoke".
Simply use the VOLUME or CHANNEL buttons on any infrared remote control to test or silence the smoke alarm from up to 20 feet away. It works with virtually any infrared remote control, regardless of the make or model — no special programming is needed!
This false-alarm-resistant smoke detector combines photoelectric and ionization sensors, helping it recognize the difference between non-threatening conditions and real emergencies. If there is a false alarm, you can silence it with the touch of a button, without having to pull out the ladder or stepstool. And since silencing the alarm is so incredibly easy and convenient, it eliminates the temptation to remove the battery and jeopardize your family's safety.
Peace and Quiet
The Remote-Controlled Smoke & Fire Alarm also comes with a low-battery warning. If the low battery warning starts chirping at 2:00 in the morning, you can silence it for up to eight hours, go back to sleep, and change the battery when you wake up. Just use the remote control test/silence feature, or press and hold the test/silence button for 3-5 seconds.
Other Features
Although the Remote-Controlled Smoke & Fire Alarm can respond to remote controls, the unit still offers a physical test/silence button. Its microprocessor technology automatically runs a daily self-check test on every smoke alarm function (except horn sound output) to assure that it works properly. It's recommended you test the horn sound output at least once a week.
Price: $39.99
(Please note prices are subject to change and the listed price is correct to the best of our knowledge at the time of posting)