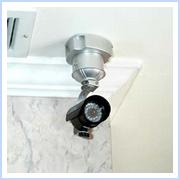 The Remote-Control Camera adds panning ability to any camera (wired or wireless). This gizmo can pan your cameras up to 370 degrees and you can remotely control the movement from up to 150 feet away.
Too bad the camera base cannot be controlled from a web site. There are several products that have that ability, but pricing is a little spooky on them.
You'll appreciate the sleek, compact design of the Remote-Control Camera Pan Base. This surveillance camera accessory is easy to install and features a convenient 12-volt output to power your camera; it is not advised that you use this accessory with night-vision cameras, since it doesn't put out enough current to power an IR illuminator.
Price: $59.99
(Please note prices are subject to change and the listed price is correct to the best of our knowledge at the time of posting)