This article reprinted courtesy of Smarthome.
With these Smarthome items, you can easily turn your house into the spookiest home on the block in less than an hour! Use any favorite Halloween decoration you have, or purchase the one that you think will work best with this project. One of our favorites is our 5 ft. glow-in-the-dark skeleton!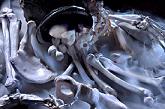 Products Used:
Tools Required:
Power drill
Screwdriver
Scissors
Cord
Here's How to Do It:
Mount the Wireless X10 Motion Sensor where you expect approaching Trick-or-Treaters to walk. Make sure it is placed where it can see your guest and within radio range of the X10 16 Device RF Base. Plug the X10 16 Device RF Base into a wall outlet, and plug the Drape Controller into the Base. Decide which decoration you are going to lift, and how far you need to lift it. Select the cord you are going to use, and make sure it's fairly strong, like a drapery cord. Cut it to a little more than twice the length of the distance you want your decoration to travel, so you can make a loop through the Drape Controller (don't knot the ends of the cord yet). Tip: consider painting the cord black to help hide it at night.
Next, mount the Motorized Drape Controller high enough so that the bottom of the cord loop will be at the right height for your decoration (near the ground for raising "bodies" from "graves"). Slip a metal eyelet onto one end of the cord, thread through the Drape Controller, and knot the cord. Pull the eyelet down so that the cord is tight, and screw the metal eyelet into the wall, securing the bottom of the cord loop. Attach your decoration to the cord, set the start and stop limits on the Drape Controller, and you're ready for your first victim!
Year Round Use:
Use these products the rest of the year by automating your entryway lights! Place the Wireless X10 Motion Sensor near your entryway, and then use the X10 16 Device RF Base to turn on the lights as you walk in the door!
Total Budget:
The total budget for this project (without tax or shipping) runs $151.97 without the optional "bag 'o bones". With the "bag of bones" you will spend $196.96.