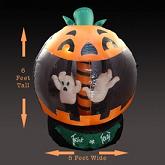 I'm sure last year you saw the new Christmas inflatable decorations sprinkle the landscape of suburbia. Well, Halloween has joined the ranks with several types of inflatable globes including this one with two floating ghosts inside.
Measuring five feet wide and six feet tall, the globe is suitable for inside or outside use and requires just an outlet to give juice to the blower to inflate.
Check out the video of the product from Smarthome.
Invite a pair of ghosts to haunt your house this Halloween! The 6-Foot Lighted Globe self-inflates in minutes to reveal a pair of scary rotating ghosts. Everything is included in this set, which is safe for indoor and outdoor use.
The 6-Foot Lighted Globe with Rotating Ghosts is easy to set up. Simply zip the unit closed, plug it in and allow it to inflate for a few minutes, and then secure the globe to the ground using the included stakes and tethers.
Price: $139.99
(Please note prices are subject to change and the listed price is correct to the best of our knowledge at the time of posting)