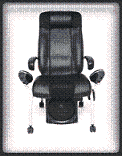 The Geeks first came across and tested the PowerPlay Pro-Media Chair at CES back in January. This chair sports a 5.1 THX certified sound system in the chair including a tactile transducer to feel the bass. The Pro-Media Chair actually looks good to boot!
The chair definitely garnered a lot of attention around CES and would do the same in your game room. We're definitely drooling over this chair.
The POWERPLAY PRO-MEDIA CHAIR by Empower Technologies is the ultimate experience for gaming, movies and music. With a powerful, digital surround sound system integrated into a durable, ergonomic chair, the POWERPLAY delivers a truly amazing level of sound performance and comfort. The POWERPLAY PRO-MEDIA CHAIR offers both a versatile home theater solution and a powerful audio platform for professional game and media developers.
Price: $1199
(Please note prices are subject to change and the listed price is correct to the best of our knowledge at the time of posting)