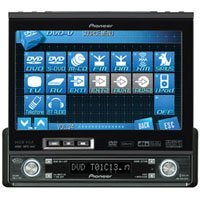 This Pioneer in-dash auto A/V system plays DivX video files from CDs or DVDs on its 480p 7″ WVGA screen. Yep, so you can burn your own movies and then play them back in your car. [If you're driving, you can't watch!] Naturally, it plays other formats as well, including MP3, WMA, AAC, and even JPEG. If you have an iPod, you can interface it with this receiver via an adpater and then have control of your iPod via the touchscreen. The AVH-P7800DVD is also Satellite Radio ready for either XM Radio or Sirius Satellite Radio; nice to see a vendor not take sides here.
One other very nice feature is its Bluetooth capabilities – you can tie your Bluetooth cell phone via an adapter to the AVH-P7800 and control it via the touchscreen. Integration means that you can listen to/talk on calls via the headunit (it has a microphone), audio is automatically muted during incoming/outgoing calls and you can store the phone book and access it by voice or the touch screen display.
The AVH-P7800DVD is Pioneer's first 6.1 channel in car receiver. It is compatible with DTS 96/24, which allows high quality 96kHz 24-bit sound playback in multi-channel formats from ordinary DVD-Video recordings. The AVH-P7800DVD can also decode 6.1 channel software in DTS-ES and Dolby Digital EX. The added surround back channel allows more detailed imaging and finer sound localization. A theater-like ambience is also provided by the ordinary two-channel sources, thanks to DTS NEO:6 compatibility. In addition, Dolby Pro Logic II delivers 5.1 channel surround sound from stereo sources, including one mode specialized for music and another for movies.
Features:
7″ Widescreen Hi-Res WVGA Display
Built-in Multichannel Processor with DVD Audio
Play MP3, WMA, AAC, JPEG, DivX by CD or DVD
Price: $1548.88
(Please note prices are subject to change and the listed price is correct to the best of our knowledge at the time of posting)