Fort Collins, COLO. May 8, 2006— Industry leaders in iPod and technology accessories, Otter Products, LLC. announced today that it has signed an exclusive distribution agreement with H2O Audio. The agreement enables Otter Products to offer its customers H2O Audio's patented waterproof headphones via Otter Products online store, (www.otterbox.com).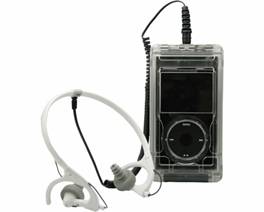 H2O Audio's waterproof headphones, feature patented design and engineering that combines high-fidelity speakers in a flexible, durable and fully waterproof headset. The H2O Audio headphones are compatible with the entire OtterBox for iPod case line and retail for $39.95. See website for package deals.
"We are thrilled to add the H2O Audio waterproof headphones to our product offerings,�? explained Curt Richardson, CEO of Otter Products, LLC. "We can now offer a comprehensive solution to our customers who love OtterBox cases, but need waterproof headphones for their sport activity. We are combining two of the best products on the market at a very competitive price.�?
The combination of the OtterBox for iPod case and H2O Audio's headphones is ideal for those wanting to add durability to their iPods. The OtterBox for iPod provides optimal protection and by adding the waterproof headphones from H2O Audio, users can take their iPod to the gym, swimming, running, biking, hiking, skiing, camping, traveling or a day at the beach without damaging their player.
"Otterbox has a full line of iPod related housings and by adding our headphones to their offerings they are providing their customers with an important gear accessory choice,�? said Chris Parnell, national sales director for H2O Audio. "It is a win for both companies and ultimately the consumers who can select the right headphone for the activity they have in mind.�?