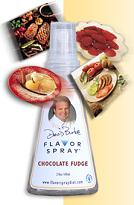 We've covered several New Year's Resolutions so far (increasing personal productivity, learn something new, save money, work on addictions) but now "the Geeks" are tackling "losing weight".
As an example, our first Gizmo of the Day helps calm the cravings of someone with a taste for a particular flavor. This is one huge step closer to food that tastes great but won't contribute to the fast slide towards death: Flavor Sprays! Just spray the flavor onto whatever you're eating to add that spray's flavor to the food. For example, let's say you want chocolate covered something, without ruining yesterday's hour at the gym or your latest attempt at dieting, then you could take some rice cakes and spray on the Chocolate Fudge spray or perhaps the Banana Split spray. The flavor sprays contain zero calories, zero fat, zero cholesterol, zero carbohydrates and are FDA-approved. Flavor Sprays are the creation of New York City Chef David Burke.
Each 2oz bottle of flavor spray costs $5.95. There are currently 19 flavors, including Cookies & Cream, Ranch, and Memphis BBQ, with more on the way. And if you're wondering how you can incorporate these into your cooking, check out some of the sample recipes.
Price: $14.99 for a 3 pack
(Please note prices are subject to change and the listed price is correct to the best of our knowledge at the time of posting)