SLAPPA Distribution LLC., today announced the launch of the newest additions to their PSP product line, the SLAPPA® HardBody PSP Complete Case and a new version of their already popular SLAPPA HardBody PSP Daily Case.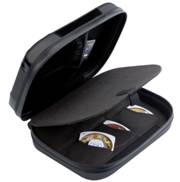 The HardBody PSP Complete Case offers a storage capacity capable of carrying a gamer's full PSP collection. A hand sewn UMD storage page holds 6 UMDs, while separate Velcro secured scubaprene storage bags are provided for protecting and storing PSP, extra UMDs, headphones and remote separately.
The white and silver edition of the HardBody PSP Daily Case was created in response to the very well received black model, which was released in the fall of 2005. This case is ideal for the gamer-on-the-go with a storage capacity capable of toting the basic necessities to get any gamer through the day.
Both cases feature a sleek graphite and patent PVC outer design on the xEVA HardBody shell, which provides tough protection without the rigidness of hard plastic. Cargo storage nets for extra accessories, Velcro secured storage dividers, rainproof zippers and dual SLAPPA logo rubber pulls complete these cases, making them a highly protective and smart solution to storing your PSP gear. "We designed the new SLAPPA line of PSP cases to be the best of both worlds­tough protection and a look as sleek as the PSP itself�?, says Dustin Garis, Director of Marketing for SLAPPA.
The SLAPPA HardBody PSP Complete Case is now available for preorder for only $25.49 (Retail: $29.99). The SLAPPA HardBody PSP Daily Case in white and silver is now available for preorder for only $16.99 (Retail: $19.99). Both are available at www.slappa.com and will ship to customers on January 25th.