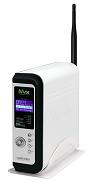 Mvix released a new firmware for their popular MX-760HD product yesterday. Mvix's MX-760HD is a hi-def 802.11g multimedia center that plugs into your network and allows you to play all your digital content directly on your TV.
The firmware (v1.1.17) enables WPA, which stands for Wi-Fi Protected Access, a far superior protection mechanism than WEP (Wired Equivalent Privacy).
The Geeks are testing out the MX-760HD and should post a review on Friday after we've worked with the newest firmware for a few days. Until our review comes out, check out CNET's review which just came out.