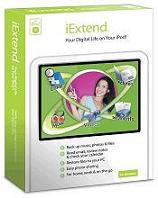 Attached to your iPod at the hip? Yet you want to have PDA-like functions without lugging around another device? Then try out the iExtend from Memeo. It's a piece of software that syncs up things like your e-mail, notes, calendar, contacts and even files with your iPod. Memeo also touts iExtend as a great mechanism for using your iPod as an alternative to a USB memory stick. One of the software's features is something called SmartPick which tracks and backs-up files on your computer to your pod. This is a pretty slick piece of software for the price.
Features:
Scan your last few weeks of email or review your notes while you listen
Stay organized while you are away from your computer with your
Ensure that you have the latest versions of files with you
Automatically back up your work from any location.
Memeo does all the work to ensure your digital life is safe.
Price: $19.95
(Please note prices are subject to change and the listed price is correct to the best of our knowledge at the time of posting)