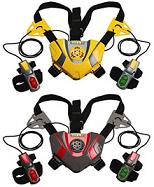 Have you ever had a disagreement at work with a peer and neither of you would back down? The Geeks have found a solution to the answer in… Mazu Kan! Mazu Kan is a two-player virtual fighting simulation that by squeezing the palm button and punching the air, you will send an attack toward your opponent. If they do not block (by a simple hand movement), you score a hit and their chest unit vibrates.
You can play in beginner (engineer) or advanced (management) mode, depending on your skills. Advanced mode opens up new attacks (like Double Power Punch) and new defenses (like Force Field). And because Mazu Kan uses virtual attacks, you can literally punch though walls to score a hit.
The winner of Mazu Kan wins the argument and no one has to go to jail!
All superheroes and superheroines have to find a place to hone their fighting skills. Many times these places are high tech installations full of traps and tests to push the hero or heroine to the edge of their ability. A true superperson will be able to confront their fears and weaknesses and conquer them. Unfortunately, most offices aren't set up for superhero fight training. Until you break out the Mazu Kan, that is.
Begin your training now – super latex/spandex costume and cape not included.
Price: $29.99
(Please note prices are subject to change and the listed price is correct to the best of our knowledge at the time of posting)