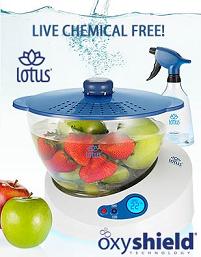 According to some statistics, over 76 million cases of food poisoning are reported in the U.S. each year. Also, 98% of the $137 billion in produce consumed is contaminated with germs and pesticides. Safeguard yourself and your family with the lotus Sanitizing System. The lotus system ozonates regular tap water and is reported to be 99.9% effective at killing bacteria such as E. coli on seafood, meat and poultry. It also neutralizes pesticide residues on fruits and vegetables. You may be able to use the Lotus system instead of buying expensive organic versions. Using the system is easy too – fill the bowl or spray bottle with water, place into the main unit, and hit a button. Two minutes later you have ozonated water.
Features:
A natural, chemical-free way to sanitize your home and to neutralize pesticides and bacteria on food.
The lotus® system's Oxyshield® technology infuses tap water with ozone — a natural sanitizer that is safe and harmless to healthy cells.
Ozone-activated water is widely accepted as a safe and effective way to decontaminate all kinds of foods — meats, poultry, seafood, fruits and vegetables.
Washing produce in ozonated water significantly reduces pesticide residues on the surface of produce. With the lotus system, expensive "organic" isn't the only way to enjoy food with less pesticides!
Ozonated lotus water quickly kills germs all kinds of surfaces — cutting boards, kitchen counters, stovetops, knives, sinks, toilets, garbage cans or diaper pails.
Excellent for neutralizing pet odors in carpets, dog beds, upholstery or car interiors.
Sanitize everyday items like sponges, dish cloths, small toys, pacifiers, nipples, can openers, kitchen gadgets and utensils — in cool tap water.
Price: $199.95
(Please note prices are subject to change and the listed price is correct to the best of our knowledge at the time of posting)