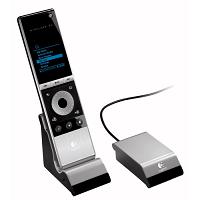 Home multimedia streaming devices are all the rage, and manufacturers are falling over themselves to create something to fit the category. Here's another one: the Logitech® Wireless DJâ"¢ Music System. This one doesn't require a home network. You plug a little transceiver into a USB port on your computer, install some software, then plug a receiver into your stereo system with RCA jacks. Then you can use the remote control to pick the music on your PC that you want to play on your stereo. Cake.
What does it play? MP3s, WMAs, iTunes®, Internet radio stations—even podcasts and subscription audio. Yes, it requires Windows. It has a pretty slick remote control that has a jog dial much like an iPod.
In case you're interested in some of the other streaming audio devices that we've featured in the past year or so, check them out: 1, 2, 3, 4.
Price: $206.56
(Please note prices are subject to change and the listed price is correct to the best of our knowledge at the time of posting)