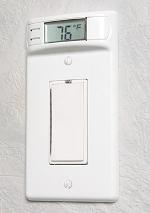 This is too cool. I've gotta get some of these. Even if you only use it in one main room, wouldn't it be really useful to know whether or not you have to adjust the thermostat or possibly close some windows?
These convenient trim plates are equipped with a built-in digital thermometer, so you can check the room temperature every time you turn the lights on or off. Installation takes less than a minute; simply remove the old trim plate and replace it with the thermometer version. You won't have to touch a single wire!
Available for Decora-style switches (#9272DW or #9272DI) or standard toggle-style switches (#9272SW or #9272SI), these wallplate thermometers are ideal for use in any room. Choose between white or ivory. Accurate within 1°F. Each trim plate includes an easily-replaceable button-cell battery. Not intended for outdoor use.
Price: $12.99
(Please note prices are subject to change and the listed price is correct to the best of our knowledge at the time of posting)