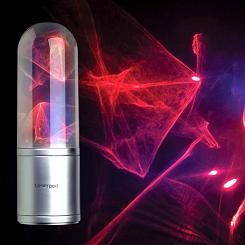 The Laserpod is the new light designed in Great Britain for your chill-out zone. Using the latest in Laser, LED and Optical Technology, Laserpod is the new light for the 21st Century. Laserpod is multi-functional, doubling as both a light and a projector sending incredible laser waveforms around your space.
With the diffuser in place, the Laserpod is a meditative ambient lamp, remove the diffuser and the effects can be projected onto a wall, ceiling or across an entire room. Works on both batteries and mains power – mains adapter included.
Use the glass refractor lens to bend the laser beams into swirling nebulas and gaseous clouds from far off plants. Beam yourself into a mind-boggling supernova of nebulous kaleidoscopic light. Chose between two dazzling displays: red laser for a scintillating astral projection or a red laser / blue LED combination for awesome cosmic cloud effects.
Price: $99.00
(Please note prices are subject to change and the listed price is correct to the best of our knowledge at the time of posting)