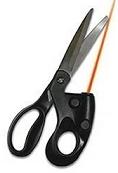 In case you missed it the first time it made the rounds on the gadget blogs, here it is again – the laser guided scissors. What else can we say? The picture practically speaks for itself. If it doesn't for you, let me try to explain: the laser light gives you a nice straight line that you use as a guide to cut nice straight lines every time! That's it. It's $17 for a cool practical gadget. C'mon people, it's got a 'fricking laser'.
In case you didn't click through to IMDB, the Dr. Evil quote was "You know, I have one simple request. And that is to have sharks with frickin' laser beams attached to their heads! Now evidently my cycloptic colleague informs me that that cannot be done. Ah, would you remind me what I pay you people for, honestly? Throw me a bone here! What do we have?"
Good stuff, good stuff.
Price: $16.99
(Please note prices are subject to change and the listed price is correct to the best of our knowledge at the time of posting)