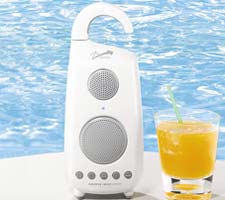 The iSplash speakers use a 900Mhz dual-frequency PLL transmitter from your iPod, MP3, stereo or TV up to 150 feet through walls and floors. The iSplash is great out near the pool or hanging in the shower. Water and tunes just go together!
iSplash™ 900MHz dual-frequency PLL transmitter with ZipConnect™ sends audio from your iPod®, MP3, stereo, TV — anything! — up to 150 feet through walls and floors to the splashproof wireless speaker. Rotate the speaker handle to hang it from a showerhead, curtain rod or outdoor fence, or place it upright on a table or deck. Add up to four additional speakers (SR287, $49.95 each) — great for outdoor gatherings!
iSplash comes with our universal ZipConnectâ"¢ module (with convenient retractable 18-inch cable) allowing you to connect and listen to music from any audio player with a headphone jack. Use the included audio-in jack and cable to connect your home stereo, TV or DVD player. Features auto-scan frequency tuning, bass boost and auto on/off. The rubberized, nonslip tray on the transmitter holds your MP3 player upright.
Transmitter measures 6 1/4″ x 4 3/4″ x 4 3/4″ and weighs 12.5 oz.; speaker measures 11″ x 4 1/2″ x 3″ and weighs 1.5 lbs. Transmitter plugs into wall outlet with included adapter; speaker runs on 6 AA batteries (order separately). 90-day warranty. Interchangeable Made for iPod ZipConnect charging modules are available that will both play and charge your iPod. Created by Sharper Image Design.
Price: $119.95
(Please note prices are subject to change and the listed price is correct to the best of our knowledge at the time of posting)