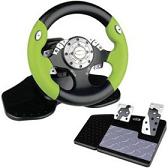 INTEC has cut the wire from your XBOX to a Racing Wheel. I hate being tethered to a gaming console and instantly get any cordless joystiks and other peripherals that allow me to use put the console away and not wire up a room to play a game. INTEC has a solution for racing games and the XBOX.
The wheel features digital and analog steering modes, rubberized grip for better control and handling, auto centering for improved handling on curves and analog pedals for realistic accelerationg and braking. So, what's this "braking" I read about? There's no braking in racing!
The Xbox Wireless Racing Wheel lets you feel every bump & crash in your favorite racing game. The powerful 2.44 GHz operating frequency ensures a flawless connection, while the 250-degree wheel excursion gives you total control of your vehicle.
Price: $44.00
(Please note prices are subject to change and the listed price is correct to the best of our knowledge at the time of posting)