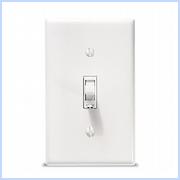 What's this? The Gizmo of the Day is a light switch?
We're not being anti-climatic… actually, the Gizmo of the Day is perhaps the smartest toggle style dimmer switch because it is INSTEON-enabled. Smarthome finally released the toggle-style dimmer a couple days ago for purchase and the Geeks decided to feature even though it's still a pre-order item (we tend to wait until you can get your hands on a gizmo before featuring). Personally, I'm still a fan INSTEON SwitchLinc V2 Dimmer fan.
You can also link your new ToggleLinc Dimmer to other INSTEON-enabled switches or controllers to create a variety of light scenes with just the touch of a button. There is no need to rewire your home; just spend a few seconds setting up scenes for "Home," "Dinner" or "Night Time," and your ToggleLinc will automatically adjust the lights you selected to your pre-defined settings. With the ToggleLinc dimmer's remote control ability, you can have the convenience of adding a bedside controller to turn off your lights after you get into bed. Never come home to a dark house again: Install Smarthome Manager Essential, Timer Software on your computer to schedule any ToggleLinc dimmer or any INSTEON-enabled device to turn on or off at any specific time or even at sunrise and sunset. The ToggleLinc dimmer can control up to a 600-watt load. Note: anytime ToggleLinc V2 Dimmers are placed directly adjacent to one another, you must subtract 200 watts of capacity from each dimmer. If three dimmers are adjacent to one another, then 400 watts must be subtracted from the capacity of the center dimmer.
Price: $45.99 – on sale for $39.99!
(Please note prices are subject to change and the listed price is correct to the best of our knowledge at the time of posting)