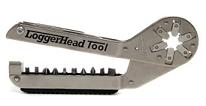 One Utility Tool to rule them all? The Immix 10x wants to be that multi-tool for you. Calling itself a Bionic Wrench, the 10x can replace numerous wrenches, screwdrivers, knives and pliers in 1 compact, slick tool. The handle doubles as a holding spot for 10 sizes and types of screwdriver head bits. The wrench itself can automatically grip varying sizes of nuts and bolts. If you need more sizes and types of bits, you can get a variant on this model that has 20 different bits including slotted, Phillips, Torx, Robertson and Allen bits. Read on for all of the sizes that the featured model has…
The Immix 10X covers standard sizes 1/4″, 5/16″, 3/8″, 7/16″, 1/2″, and 9/16″as well as metric sizes 7mm, 8mm, 9mm, 10mm, 11mm, 12mm, 13mm, and 14mm. It also comes with a durable synthetic carrying case with a leather belt loop. The stainless steel knife blades that retract safely in the handle when not in use.
Also check out some of the other 'loggerhead' tools.
Features in a nutshell:
Multi-tool blends a Bionic Wrench with 10 popular types and sizes of screwdriver heads
Two stainless steel knife blades retract into handle
Compact design makes single tool convenient for use in kitchens, dorms, or tool chests
Price: $74.99
(Please note prices are subject to change and the listed price is correct to the best of our knowledge at the time of posting)