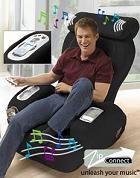 The very first gadget we ever featured just over 2 years ago was the very cool iJoy Massage Chair. Since then, iPods and their 2 zillion accessories have taken off like wildfire. The Sharper Image has also developed a technology called ZipConnect to quickly interconnect iPods and their accessories. The latest incarnation of the iJoy features ZipConnect so that you can easily plug your iPod in for audio enjoyment while getting relaxing and getting a massage. The iJoy ZipConnect features stereo speakers in the headrest and a subwoofer.
Features:
Luxurious iJoy® ZipConnect™ Massage Chair blends music and massage into the ultimate relaxation experience!
iJoy® ZipConnect™ includes a FREE ZipConnect module (with convenient retractable 18-inch cable and mini stereo plug) for playing any iPod, MP3, portable CD or satellite radio — any audio source with a headphone jack!

al FREE ZipConnect module is interchangeable with available Made for iPod modules that charge as they play.

Listen to your iPod or MP3 through the chair's excellent built-in stereo speakers in the headrest and a powered subwoofer in the base.
Incredibly realistic Human Touch™ Technology (HTT®) Robotic Massage® feels amazingly like the hands of a skilled — and tireless — masseuse.
Replicates the actual back-massage techniques used by massage therapists and chiropractic professionals — smooth Rolling, deep Kneading, tapping Percussion and therapeutic Compression.
View the interchangeable Made for iPod ZipConnect module that charges while you play (SI903WHT).
See all iPod speaker systems & MP3 sound systems. Shop for ZipConnect CD Stereos, the iJoy® ZipConnect Massage Chair, iSplash Wireless for iPod and MP3 music in the shower and iPulse ZipConnect Stereo Speaker System with LED lightshow.
These chairs have a 30-day return privilege and a 10% restocking fee.
Price: $599.95
(Please note prices are subject to change and the listed price is correct to the best of our knowledge at the time of posting)