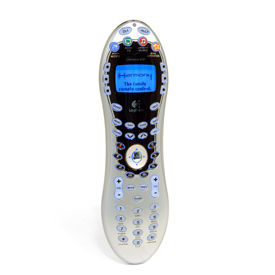 Moving to the next gadget that dad's would love to receive on Father's Day… a Harmony Remote Control that can control up to 15 devices with a single, simple to use remote control. This remote not only controls up to 15 devices but the remote is designed to specifically work with TiVo and other DVRs with the essential DVR buttons built in.
Al Bundy from "Married with Children" would be in heaven with this remote in his left hand and his right hand sitting comfortably in his pants.
You don't need to clutter your coffee table with half a dozen remote controls. You can control all of your A/V components with a single easy-to-use remote, even if you have a new DVR! Designed specifically for Digital Video Recorder (DVR) users, the Harmony® 670 DVR Remote features convenient controls that make it easy to command TiVo® and other popular DVRs, and it can control up to 15 devices, so you can stop juggling remotes while you enjoy your entertainment.
Price: $124.99
(Please note prices are subject to change and the listed price is correct to the best of our knowledge at the time of posting)