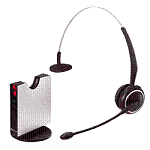 GN Netcom has taken everything that makes a headset great and wrapped it up into one compact package. The GN 9120 is totally wireless, and gives you a whopping 300-foot range. It takes full advantage of the 2.4 GHz frequency to give you all that freedom. And that's just the beginning.
It's super-lightweight. Slip on the 9120. Hands down, it's the lightest wireless headset yet. Plus, it's convertible, too. Wear it over your head for all-day comfort and stability. Or snap off the headband for a discreet, over-the-ear fit. You decide! You'll be the envy of the office. The 9120's long range and sleek, stylish design will have your co-workers wishing they had your phone freedom.
Because you're hands free and cord free, you'll be more productive. No more putting callers on hold and racing down to the fax machine. Keep talking while you make copies, send a fax, grab a file, or heat up your lunch. The GN 9120 with Flex Boom delivers up to 8 hours' talk time. Combined with a fast 90-minute charging time and a full 24 hours' standby, you'll have power to take all your calls without interruption.
To keep calls secure, the GN 9120 uses a Digital Spread Spectrum protocol, originally developed for secure military communications, and 64-bit encryption. If your new 300-foot range takes you through noisier parts of your office, then you'll love the GN 9120 with Flex boom. It uses the same noise-cancelling mic as the top-shelf GN Netcom Flex corded headsets. Background noise is all but eliminated so your callers hear you and only you.
Your GN 9120 comes with a stylish base unit that not only connects your headset to your phone, but doubles as a charging stand and place to keep your headset when you're not using it. Volume, mute, and ON/OFF controls are built into the earpiece. Answer and hang up without returning to your desk. When your phone rings, the GN 1000 RHL (optional), Item #7606, sends an audible signal right through your headset. To answer, simply activate your headset and your phone's handset will be lifted off-hook automatically, so you can take the call. The handset is also lowered back into place automatically when you end the call. No more mad dashes across the office. And no more missed calls. Order it with your headset and save some $$.
Price: starting at $279.99
(Please note prices are subject to change and the listed price is correct to the best of our knowledge at the time of posting)