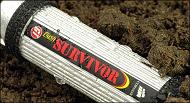 Flash Survivor is an extremely durable, water resistant, drop-tested flash USB memory drive perfect for storing all those scanned documents you created using the Dell MFP Laser Printer 1815dn. By design it is perfect for transporting valuable data including priceless personal files, photos and applications without having to worry about damage or loss of data due to the elements.
The Geeks recommend storing all important documents in PDF format such as insurance documentation, identification, birth certificates, house deeds and mortgage documentation, auto titles, stock and bond certifications, wills, bank account information and phone numbers for family, friends and customer support numbers of banks, insurance companies, credit cards and passwords (stored in a utility like pwsafe.
In addition to the practical information, you might want to include some important pictures digitized and a copy of Open Office Portable to read various documents.
All Flash Survivors are:
* Encased in extremely strong CNC-milled, anodized aircraft-grade aluminum.
* Water resistant to 200M through the use of a EPDM waterproof seal.
* Protected from vibration or impact damage through the use of a molded shock dampening collar.
* Plug-&-Play with any USB 2.0 certified peripheral computer port (backward compatible with USB 1.1).
* Protected by a 10 year Limited Warranty.
Price: $63.99
(Please note prices are subject to change and the listed price is correct to the best of our knowledge at the time of posting)