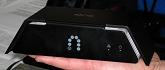 Digital Experience! (the exclamation mark is part of the name, not our invention) seemed like the bigger brother of CES Unveiled, with over 150 companies on display over at Ceasar's Hotel. Only press was invited to the event which unfortunately only ran 3 hours and conflicted with the Bill Gates keynote address which we also attended. In case you're wondering why there was a conflict, it's because Digital Experience! is thrown by Pepcom, a different organization from CEA which hosts CES. We were a little strapped for time here, not even getting to chow down on some of the great spread they had, but managed to talk to a few companies and even found a pretty wicked new software product.
Some of the companies that we spoke with included: Netgear, Sling Media, Palm, Alienware, Belkin, OQO, Microsoft (for their Windows Home Server), Pinnacle Systems, Linksys, and MojoPac. Here the highlights.
We're leaving our favorite product for last, but if you're interested, just scroll down to the bottom.
Netgear showed off their EVA8000 Digital Entertainer HD, which ran a Netgear built application called SkipJack, which looks like Windows Media Center. The EVA8000 can stream media from your PC to your TV, snag RSS feeds from the Internet, stream iTunes, and get this, YouTube videos. It supports tons of media formats, and comes with a remote control. It will list at $349.
Alienware showed us their Hangar18 Media Center box running Vista Media Center. The media center PC is fairly typical with a 160GB drive, 2 analog tuners, 1 digital tuner media center PC and will be launched in Q2 priced under $1500. One of information tidbit, Dell has not touched Alienware yet and is allowing Alienware to continue as if they were never acquired.
Palm announced the Treo 750 for Cingular with UMTS support today and showed it off at the booth. Really noticeable was the lack of the antenna, but it was pretty much the same size as the 650/700. I did ask whether it had any 802.11 WiFi capabilities ("Nope") and whether that might be coming sometime down the road ("No Comment"). The Palm rep didn't quite understand why you would need that if you already have something like EVDO or UMTS. I made the case for better networked speeds and more solid connections when you're in 1 spot. He did explain that WiFi would add more heft and possibly greater size to the handset as well as decreasing battery life. All the same, here's hoping that they do consider it.
Sling Media had a couple new items to show as well as the promise that the HD connector is being shipped! The new items that interested us included something called a Homeplug Turbo which is a powerline networking product that includes a four port switch running at 85 mbps with an net effective throughput of 40 mbps and connects to a single port in your router. This should be available in Q1-Q2 for $150. Also, HP and Sling Media have joined together to ship 4 million notebooks that will access the Sling Media software using QuickPlay (without having to turn on the machine). The big news item is Sling Media's new SlingCatcher. Even though the product is not announced, they are showing the product off. The SlingCatcher decodes the stream from SlingPlayers and is meant to be put behind a flat panel in a bedroom or kitchen so you don't need a DVR sticking out of the wall horizontally. Also, expats living abroad and people's weekend houses are possible targets allowing people to watch TV from their main home (local market).
Belkin introduced a slew of new products including the third WiFi Skype phone we've seen so far (Linksys and Netgear manufacture the other two), a 3-1 HDMI switch, three new surge power protection devices, and a laptop docking station that uses a PCMCIA card to dock. The three products that really grabbed our attention were the Easy Transfer Cable for Vista, the Cushtop and TuneStudio. The Transfer Cable helps users migrate from XP to Vista by plugging one end of the cable into each machine and a Windows Easy Transfer Wizard automatically appears letting you chose what items to copy. The Cushtop is simply a laptop holder for your laptop. Sure, there are a billion and three of these items available but this one is cushy and actually places the laptop at a perfect height for typing. Finally, the TuneStudio is a cool little gizmo that podcasters and musicians might find handy. It's a four channel audio mixer that let's you digitally record directly to your iPod where each channel is equipped with 3-band EQ and pan and level controls.
OQO has been in the limelight for quite some time with their UMPCs, and they just debuted their 2nd-gen model, the 02, which has a 1.5GHz processor, 1GB RAM, 60GB hard drive, WiFi 802.11a/b/g and Bluetooth 2.0, and EV-DO wireless. We played with it for a little while and we surprised by how responsive it was. It's a little tough to type on, but there is a TabletPC edition. Really solid feel to it. Also and this was a bit of a surprise – it has an HDMI port on it.
We spoke with Microsoft about their Windows Home Server product, and they really feel that this will be much more of a turnkey product geared to the folks who just aren't computer techies, but who already have at least one or more machines at home along with media like photos, videos, etc. One of the most useful applications of the Home Server is its ability to backup other machines on your network with the addition of a thin client to the other PCs.
The product that we really liked, was brand new, and deserving of the 'innovation' label was something called MojoPac from RingCube Technologies. MojoPac is a small application that runs off of an iPod, USB Flash or Hard Drive, and essentially turns that portable drive into a mini Windows PC. You still need a Windows machine to plug it into, but you can take all of your applications and data with you on that stick/drive, plug it into another machine, and run everything off of it, without needing the foreign PC to have those applications or transfer your data to it. We're looking forward to testing this out.