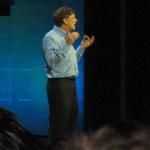 Update: If you'd like to see the keynote, Microsoft has a Webcast of it.
For the tenth time in the forty year history of CES, Bill Gates officially opened the show with the keynote speech, which was largely about Microsoft Vista and what it could do. A large portion of the presentation was run by Microsoft Entertainment and Devices Division President Robbie Bach who showed how Microsoft is delivering a new generation of connected experiences, via Vista of course.
Several new products and services were announced including new Windows Vista PCs, previously unreleased Vista features, IPTV-enabled XBOX 360 and an exclusive partnership with Ford that extends the digital experiences to the car. They introduced the Microsoft Windows Home Server that provides a central place to store, protect and access all the digital content in the home. For more coverage of the Microsoft Windows Home Server, check out our coverage of Digital Experience.
Justin Hutchinson, Group Product Manager for Vista showed off some Vista features first including a Thunderbird-like feature for searching that returns search results on the fly as you are typing the query and searches multiple places including remote computers and even Internet sources at once. He also showed off some Office '07 features such as a wiki-like feature called ShadowCopy to restore older versions of documents as well as on the fly previews of various styles in Word '07. The crowd really responded when he searched for an address in Las Vegas using Windows Live Search, plugged in an XBOX 360 controller then flew through a virtual 3D map of Las Vegas. They can even lay down real time traffic information to decide which streets to drive down. The last part of the demo really showed what looks like future ideas but is live right now on Windows Live.
Moving on, Hutchinson then showed off features of Media Center where you "can listen to all my music, I can watch and record live high definition television, download movies". Another feature that was introduced was a content partnership with FOXSports.com called Windows Media Center SportsLounge. SportsLounge combines live television, real-time scores and online sports media allowing people to keep up with their favorite teams and players. SportsLounge can be setup to track all of your fantasy teams and update you on player's stats and an alert can be setup so when someone you track comes to bat, you will be noticed. This garnered a healthy applause.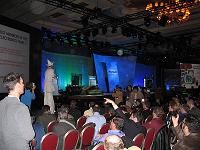 After talking about some new content partnerships in Media Center with Showtime, Nicelodeon and Starz Vongo, Hutchinson then talked about photos knowing that close to two-billion digital photos were taken last year. Vista includes Photo Gallery to edit and organize all of your digital photos. DVD Maker in Windows Vista allows you to create a DVD using preinstalled themes and a preview that shows you how the DVD will look before you burn it.
Next Hutchinson talked about Windows Vista Ultimate which is the flagship edition of Windows Vista. Microsoft continues to download features to users on a regular basis called Ultimate Extras. One example was a neat photo editing tool called GroupShot. GroupShot combines two photos with the best versions of each photo.
Finally, DreamScene was demoed which allows you to having moving wallpaper. In fact, you can use your own video as background wallpaper. Vista launches in 22 days.
Gates then announced four new Vista machines scheduled to be available on January 30th including an HP TouchSmart PC, the Toshiba Portege R400 which uses the Windows SideShow technology, a Sony VAIO VGX-TP1 as well as a Medion UMPC.
Next, Robbie Bach was introduced and he started talking about music and how Gates announced one year ago a strategy for digital music. Phase one was achieved with a partnership with MTV and 350 partners worldwide. The second part to their strategy was the introduction of Zune. Zune is the number two player in the MP3 space.
The next topic was mobility and mobile phones where Windows Mobile outsells Blackberry in the market with not only the ability to email but IM, watch movies and TV, listen to music, etc…
Gaming was next on the agenda where the Microsoft Windows platform is the top gaming platform with over 200 million people every month playing games on Windows. Microsoft of course also has the XBOX 360 which is the current leading in the next-gen gaming console with over 10.4 million consoles across 37 countries sold. Moving on from the platform to actual games, Gears of War was mentioned as selling 2.7 million copies in the first eight weeks. The XBOX 360 game library will expand from 160 titles currently to over 300 by the end of the year with DDR, Guitar Hero II, a new Microsoft title called Mass Effects and of course GTA 4. The final game mentioned was Halo 3 and a video segment of the game was played. Next demos of Xbox Live were given by Lisa Sikora and Albert Penello.
Finally Bach talked about Microsoft's four ways to watching high definition video through the XBOX 360. Using a HD-DVD player that you can buy for the XBOX 360 was the first method. The second method to view high definition content is through Media Center. Video Marketplace with expanded high-definition movies and TV content is now the third way while IPTV is the fourth.
Finally, Mark Fields, President of the Americas for Ford Motor Company, joined Gates on stage to talk about Ford's exclusive technology driven by Microsoft Auto software. Integrating all of your electronic devices like cell phones, Zunes, iPods and anything else in your pocket is Synch. Text messages can even be received while you are driving and using new text-to-speech technology, including recognizing emoticons, the text message will be read to you over the car stereo. Synch will be available on a dozen Ford Motor Company products this year including the Ford Edge crossover.
Bill Gates then gazed into the crystal ball to finish up the speech and talked about various future technology concepts in the Microsoft Home of the Future on the Microsoft campus.
The entire transcript is available on Microsoft's site.