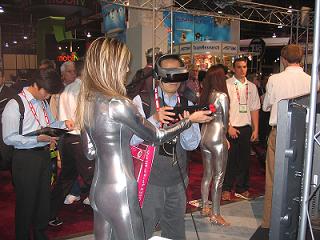 While Chief Gadgeteer wandered "somewhat aimlessly" around the Sands Expo on Wednesday afternoon, I went in search for innovative gaming products for our Gaming Geek. Ok, perhaps I may have wandered somewhat aimlessly too…
First of all, I was really interested in Wildcharge but simply could not find their Innovation Pod. With limited time I sadly had to move on, but WildCharge promises to answer a solution of charging your mobile devices. Rather than having to plug in each device and carry heavy adapters for all your devices you could carry a Wildcharge charger. The really cool part of this product is that you simply place the devices on a pad to recharge… that's right, power without wires and plugs.
I visited iRobot to check out their programmable robot that was unveiled for CES. The iRobot Create was designed to be affordable and programmable for aspiring roboticists to serious developers. The robot can be purchased from iRobot's site for $129.99. Create is based on the core technology in the iRobot Roomba but provides access to robot sensors and actuators via an open interface and includes standard connections for electronics and threaded mounting holes for more sensors, cameras and wireless connections. More advanced users will be able to program the robot using C or C++ using the iRobot Command Module. While iRobot Create is neat, I would probably get more out of a Lego Mindstorm NXT than a Create.
Next I ran across Spotwave, a company that produces a way to enhance your cell signal inside buildings such as a workplace or home. Considering my cell drops off the second I pull into my garage I would be interested to see if these products actually work. We've featured a competitor as a Gizmo of the Day back in 2005 but Spotwave promises their technology is superior due to smart antenna technology and adaptive techniques used to improve wireless signal strength indoors which continuously scan and monitor the RF sign environment and changes the power and gain when needed in real-time by the advanced adaptive algorithm. Sounds reasonable.
The first gaming booth I encountered was a virtual reality gaming accessory that was actually unveiled at the E3 tradeshow. The 3001 AD Trimersion sells for $395 and includes a 3D Trimersion headset and gun for FPS that can attach wirelessly to various gaming systems including PS2, Xbox 360 and PCs. To extend my streak of breaking demos from one end of CES to the other, the PS2 locked up and they had to get another PS2. The company started by making larger arcade machines and has branched out to personal usage. I noticed everyone that tried the product needed help to put the device on and controlling the game was quite hard for all the first-timers that were testing the machine which could prove to be a detriment for home gaming. 3001 AD did bring a couple of CES booth babes though!
I ran into two golf simulators including one by Electric-spin and another by QMotions. Electic-spin only produces Golf Launchpad, a golf simulator for the PC or Mac while QMotions first launched the golf simulator but has also released a board (for snowboarding or skating) and will launch something called FunFitness that is a full motion game controller that should spice up your work out. The Electic-spin looked a little nicer than QMotions, but of more interest was the FunFitness by QMotions. You simply strap a sensor on your ankle and ride your stationary bike. The FunFitness works with racing games like EA Sports NASCAR Chase for the Cup 2005 and others and will be available for Sony PS2 and Microsoft Xbox and works by pedaling faster to go faster and slowing down when taking curves in racing games.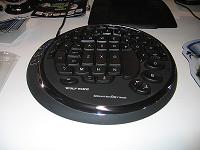 WolfKing released a new gaming pad called the Warrior Limited Edition and a new gaming mouse called the Trooper Gaming mouse. Perhaps we'll get these in the hands of our Gaming Geek to see how well they work for FPSers.
Next I ran across a product that the Gaming Geek had actually built for racing games from a company called Genius Racing Game Accessories. The Genius 2 in 1 racing device called the TwinWheel has a vibration feedback steering wheel and works for PC and PS2 platforms. The steering wheel includes 12 programmable buttons, four suction cups and two C-clamps for stability. A set of gas and brake pedals allow you to speed up or stomp on the breaks in seconds. Too bad they aren't selling the setup they were demoing!
While at Sands I also ran by the Sling Media booth (I had already visited them at Pepcom's event) and WowWee to check out what was the toy of the show in the DragonFly.
It was a packed and hectic couple of hours but I managed to see some cool and innovative upcoming products.