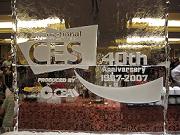 CES has officially closed and the Geeks have retired to our room to let the information percolate and write some opinions down for readers. While sitting in the room and thinking back over the week, I feel we did some things really well and others not so much and jotted down some tips that we will follow next Jan 7-11, 2008 for sure. Better make your hotel reservations now!
Don't walk the halls aimlessly, have a plan at all times – we unfortunately walked Sands before preparing and missed some good booths that we wanted to check out.
Make appointments with vendors – determine weeks, maybe months before CES which vendors matter to you and your site and book appointments.
Maintain some flexibility in your schedule – make sure you are not booked everyday from 8AM-midnight in case a cool product appears on your radar.
Attend CES Unveiled – while this past year perhaps wasn't the best, this still was a great opportunity to meet multiple vendors (80 companies were attending – we were interested in 15%) rather than trekking the halls. The line is long to get into the party and you really don't have to stay too long, but there are free drinks and food.
Attend Digital Experience! by Pepcom Inc. – Digital Experience! is from a different organization as CEA and therefore actually competes with your time for the CES keynote. You want to spend as much time as you can here though with over 150 companies, much of which interested us. This was less crowded and much more enjoyable than Unveiled. Incredibly good free food and drinks.
Attend Showstoppers – you need an invitation to attend Showstoppers but if you can get in this is another great way to tour CES without walking the floor. We could have definitely spent more time here. Again, very good free food and drinks but more importantly a huge percentage of the companies here we were interested in talking with. If you cannot make it in, don't give Dave a hard time!
Network, network, network – CES was about networking for us and creating relationships with companies by physically meeting them and touring their products. Also, networks with colleagues as you both benefit when you learn about what works and what doesn't.
Don't try to report the news of CES – you simply won't be read as that's covered more quickly by Engadget, Gizmodo and CNET armies. Instead write opinion pieces on the state of the various CE industries or fill the void of coverage for niche products that you are interested in.
Look at people's badges – check to see if you know them already but have never physically met or to see if you want to meet someone.