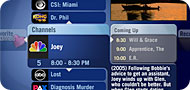 After seeing a demo of the upcoming Moxi application and boxes, I have to say that they only thing standing in their way of making a serious dent in the DVR (Tivo) and Media Center markets is their lack of support for Satellite TV services. If you have cable tv, you may have been unknowingly using Moxi already, as Digeo has licensed their product to a number of cable providers and set top box manufacturers. The news here is that later this year, Digeo will be selling these boxes straight to the consumer in retail outlets.
Moxi has already won awards for its user interface, and I have to admit that it's definitely an improvement over the typical grid layout for viewing TV schedules. Apart from it's bright, slick, graphic heavy look, functionally, it breaks things down into categories which scroll horizontally, and category contents which scroll horizontally. Those 2 intersect, but leave at least 1/4 of the screen's real estate for whatever is currently playing. For example, a category of content could be sports, and the channels may include ESPN, etc. or other sports programs. Take a look at the online interactive demo for a better feel.
The Digeo folks also touted the search feature a lot, because it doesn't just search one category of content, but all of it. That means, free TV programming, pay-per-view, music, all of the content that the Moxi accesses.
But Moxi isn't just a replacement for your cable box. It's a pretty complete media center box. It has a DVR, holds and displays your media (photos, videos, music), plays DVDs and CDs, plays some games, plays music and photos from your PC (via connection to your home network via Ethernet), rips your CDs directly into Moxi, and has a unique feature: a news-channel-like ticker, which snags up date info from the Internet and display it at the bottom of your screen. You can lock onto certain info topics (ex: NBA scores), or specific items (ex: the score of a specific game) and it will auto-refresh those topics or items.
There's no question that Moxi is impressive. It will definitely give TiVo, etc. and Media Center boxes a run for their money. As mentioned, its biggest drawback right now is the lack of interoperation with Satellite TV services. It is definitely got the edge on straight media centers, with its integrated TV guide features. After seeing the Netgear Digital Entertainer HD (EVA8000), we wonder which kind of box consumers will go for. Will they stick with their cable/satellite company box and get a media center PC or will they forgo the set top and get a Moxi? Moxis won't appear on shelves until the 2nd half of this year, and price points are an unknown as well. Let's hope they're smart enough to make it attractive.