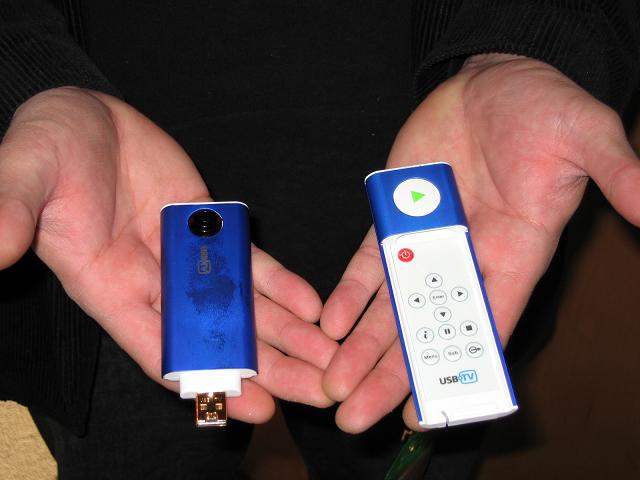 The Geeks swung by the Akimbo Systems suite in the Hilton to check on the latest from the Video on Demand (VOD) content aggregator. Their two major announcements at CES included providing their VOD content to AT&T Homezone subscribers and being part of the USBTV initiative.
Akimbo Systems announced at CES that its VOD aggregated content will be available later this month to subscribers of AT&T Homezone. AT&T Homezone is a video service that integrates AT&T│Yahoo! High Speed Internet Service, AT&T│DISH Network satellite television and AT&T Home Networking services via a single device. The integration of Akimbo content into the Internet connected set-top box will bring a new level of choice for consumers, who can now easily watch thousands of programs and movies on TV, downloaded with just a touch of the Homezone remote control.
"By combining such a wide range of video-on-demand, broadcast and Internet services, Homezone has created what is by far the most comprehensive entertainment experience available today," said Joshua Goldman, CEO of Akimbo Systems. "AT&T Homezone is a tremendously exciting integrated service that is ideal for anyone who wants the latest in home entertainment."
USBTV was announced yesterday at the Sandisk press conference by Kate Purmal, Senior VP and GM, and is a new industry-wide initiative that should enable consumers to move digital content from their PCs to their televisions to view content on a big-screen.
"USBTV represents a major advance for digital content providers," said Joshua Goldman, CEO of Akimbo. "By making it convenient for consumers to download content from the Internet and watch it on TV, USBTV will open the door to increased sales and new advertising opportunities for the entertainment industry."
The Geeks were impressed by the USBTV gadget and the content available through Akimbo Systems' VOD content in general and further justifies the promise that Internet video delivery and in-demand video services will be the wave of the future to purchase video content.