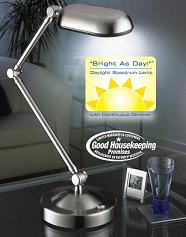 Is it getting harder for you to read, focus or see clearly in the yellow light of your old narrow-spectrum lamps at home, or under the green cast of office fluorescents? Then you will love our "Bright As Day!"â"¢ light — a brilliant, glare-free, wide-spectrum light that makes it easy to see small details, easy to read fine print, easy to enjoy true colors in all their subtlety, all their vibrancy.
"Bright As Day!"â"¢ light. Sharper Image Design's new "Bright As Day!" lamp is the best — and best-looking — natural-spectrum reading and task lamp you can buy. This desk lamp was recently chosen "Best Value" and "Best Overall" by The Wall Street Journal. It's flicker-free, glare-free wide-spectrum white light means you can read comfortably for longer periods of time, with greater ability to concentrate and to stay alert, with less eyestrain. You'll see more clearly and feel better, too! "Bright As Day!" is the ideal lamp for reading, writing and working at home or the office; and it's perfect for easy-on-the-eyes model-building, fly-tying, doing puzzles and board games, needlepoint or sewing.
Great style. Dimmable light! Unlike other wide-spectrum lamps, with utilitarian plastic housing, our "Bright As Day!" lamp is handsomely crafted of cherry-finish wood accented with brushed nickel metal shade, hardware and base. What's more, its unique continuous dimmer means your "Bright As Day!" lamp's brightness can be adjusted to accommodate any home or office environment at any time. With competing lamps, it's all bright whiteness.or nothing. In contrast, our "Bright As Day!" patent-pending dimmer is unique among desktop natural-spectrum lights. The lamp's height and the angle of the arms are fully adjustable using three ratcheted metal joints and moveable shade; it's easy to achieve the desired positioning.
Lasts years. Saves money. Your purchase includes an energy-efficient 27-watt quad-tube "Bright As Day!" fluorescent bulb that lasts 6,000 hours — years of conventional use and much longer than standard light bulbs. Replacement bulbs are inexpensive (SI928, order separately) and easy to change. Lamp fully extends up to 3 feet high; it weighs almost 11 lbs. and is remarkably stable. Plugs into standard polarized outlet with its transparent 8-foot cord. One-year warranty. Created by Sharper Image Design®.
Price: $99.95
(Please note prices are subject to change and the listed price is correct to the best of our knowledge at the time of posting)