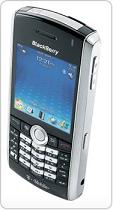 Blackberry was sure to be featured in our smartphone roundup. They continue to produce quality, sought after phones, including their latest, the Blackberry Pearl. The Pearl has received quite a few raves since its release a few months ago. This latest model, the 8100, brings a slimmer, lighter body, a memory card slot, voice dialing and a media player. Also included along with the batteries, are Bluetooth 2.0, EDGE high-speed data, and yeah, the most addicitive part – BlackBerry push email. This has more of a cell-phone form factor than typical Blackberry's and doesn't have the usual click-wheel, but instead a full QWERTY keyboard with the SureType predictive text, so you typically don't have to type in all of the letters to common words. The 65,000 color screen is nice and large at 240 x 260, to run your browser, IM, e-mail and organizer apps. One nice feature, like the Treos, that you'll be glad it has is phone integration with the apps, so you can click on phone numbers to dial.
Blackberry actually thought enough of this new model to give it its very own website. If you have a minute and a decent Net connection, check it out – it has a slick Flash-based presentation.
Features:
1.3 mega pixel camera to capture those special moments
MP3 player lets you listen to your favorite music on the go
Menu and escape keys on the front of the device for easier access
speakerphone
Bluetooth technology lets you experience hands free and wire free features
Four way trackball for easy navigation
Size (LWH): 4.4 inches, 2.9 inches, 0.94 inches
Weight: 3.16 ounces
Network Compatibility: GSM
Phone Book Capacity: 500 Entries
Minimum Rated Talk Time: 165 minutes
Minimum Rated Standby Time: 75 hours
Battery Type: Lithium Ion
More Details on the BlackBerry 8100 Pearl Cell Phone
Price: $49.99 after rebates and with cell phone plan
(Please note prices are subject to change and the listed price is correct to the best of our knowledge at the time of posting)
Advertisement
The blackberry torch can be bought through a variety of online retailers such as dialaphone.