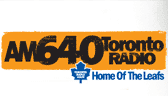 Unfortunately it looks like my discussion on Toronto 640AM will need to be put on hold as scheduling is in flux due to extended coverage of their traffic helicopter crashing yesterday. The two men injured worked at the helicopter maintenance company and are in the trauma centre at Hamilton General Hospital.
Perhaps next week we'll delve into Vista:
3:30 Doug Felteau – Chief Gizmateer with GizmosForGeeks.com A review of the new Windows Vista operating system. Vista contains hundreds of new features, including an updated graphical user interface and visual style, improved searching features, new multimedia creation tools such as Windows DVD Maker, and completely redesigned networking, audio, print, and display sub-systems. Vista also aims to increase the level of communication between machines on a home network using peer-to-peer technology, making it easier to share files and digital media between computers and devices. Do you have questions for the Chief Gizmateer? Go to GizmosForGeeks.com, or email Doug here.
The Geeks are pulling for the two men injured and our thoughts are with them and their family.