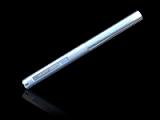 The Green Evolution Series lasers are the latest from the world's largest laser manufacturer… Wicked Lasers from China.
The new Evolution Series green lasers have a beam diameter of <0.8mm and a beam divergence of <1.5mRad while the Executive Series green lasers have a beam diameter of <1.6mm and beam divergence of <1.0mRad.
What does that mean? Well beam diameter is the diameter of the beam measured in millimeters while the beam divergence is how much the diameter increases with distance traveled measured in milliradians.
So, given the same output power, the Evolution laser series will have a better burning capabilities up close while the current Executive series would produce a smaller "spot" size 100 meters away.
If you want to burn something up close or light a match easier using a beam of light, the new Evolution is for you.
Designed by the world's largest laser manufacturer, these versatile lasers strike an unmatched balance between burning power and distance.
The secret lies in our specially developed propriety optics that ensures a narrow beam both up close and far away. Equipped with a small beam spot size, the Evo is capable of burning up close and signaling at long-distances.
The laser is encased in an aircraft-grade aluminum shell and also has an all aluminum activation button. The button is positioned with precision not to protrude from the sleek lines of the casing. This ingenious, yet simple, design prevents the accidental activation of your laser beam.
Price: $149-$549 depending on power
(Please note prices are subject to change and the listed price is correct to the best of our knowledge at the time of posting)