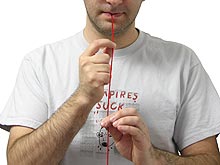 According to the guys at ThinkGeek:
History time! It's well known how much Thomas Edison contributed to science and invention (even if he did steal from and intimidate many other inventors of the day). One thing you might not know is that he had a great sense of humor. It's true. Tommy filed patents for many funny things including: glow in the dark DVDs, fruit flavored leather jackets, and exploding whoopee cushions (using real dynamite). Another one of his fun patents was for a way to make strips of material talk in your head. Presenting, based on Edison's original patent, the Valentine's Day Talking Tapes!
Wow, that Edison sure was a joker and I love the shirt in the image – "Vampire's Suck".
Hold the pointy end in your mouth, pull taut, and run a fingernail down the grooves. It might take a few tries to get the speed right, but you'll hear a voice in your head. Hold or tape the pointy end to a cup, balloon, empty box, or any other resonator and you can share the message with your friends and loved ones. You get 5 different messages per pack – 4 messages of love ("Be My Valentine," "I Love You," "Hello Sweetheart," and "You Turn Me On") and 1 message if you screw things up ("I'm a Jackass"). Hopefully, you'll only need the "I'm a Jackass" strip to make your Valentine's Day sweetie laugh. Hopefully.
Each Talkie Tape is red plastic and 23.25″ long. They are unlabeled, so the only way you'll know what they say is to experiment (like Edison!)
Price: $5.99
(Please note prices are subject to change and the listed price is correct to the best of our knowledge at the time of posting)