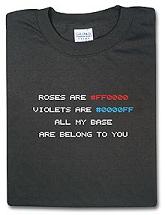 The eloquence of a few lines of verse can be a powerful thing. Poetry can cause you to pause and think about life. It can incite feelings of rage. A good poem can even bring you to tears. We're not sure where this one lies in the spectrum of emotional reactions, but we're thinking somewhere between a chuckle and a look of heartfelt confusion. This shirt, designed by ThinkGeek Love Labs® makes an especially good gift to one you love or love to confuse, depending on their knowledge of hex and Internet lore.
roses are #FF0000
violets are #0000FF
all my base
are belong to you
Also available in a Ladies Babydoll version!
100% cotton t-shirt in our favorite color, black. Heavyweight, preshrunk cotton tee with the lovely poem above printed on the front in white, blue, and red.
Price: $14.99-$16.99
(Please note prices are subject to change and the listed price is correct to the best of our knowledge at the time of posting)