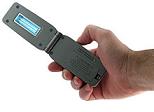 You know that guy down the hall who is hacking up a lung? That guy who picked up your limited-edition Greedo action figure, spreading his diseases all over it? Come on, you can't be sick – you've got too much work to do! Why didn't he stay home, and keep his germs to himself? The last thing you need is to pick up some SARS or other kind of mange, and spending a joyous evening on the toilet. Meanwhile, your work would wait – piling up, not caring one bit that you got sick.
You like to take care of yourself – popping vitamin-c and zinc powerups, and rocking the ecchinacia, but there's only so much you can do to shore up your own defenses. These microscopic nasties keep getting more and more vicious. Thankfully, technology keeps pace, and let you go on the offense, and kill some germs.
Pull out this sleek pearl clamshell – is it a cell-phone? No! Intense ultra-violet radiation emanates from a lens on the face, killing 99.9% of bacteria and viruses on your mouse, keyboard, phone, action-figures, what have you! Pass it over your contaminated objects for 10 seconds, and you're virtually germ-free.
Please remember – this is ultra-violet radiation, and care must be taken when using it. Don't use it on any part of your body. Be safe and be healthy!
Price: $79.99
(Please note prices are subject to change and the listed price is correct to the best of our knowledge at the time of posting)