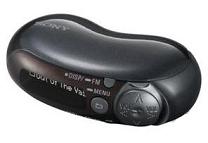 For a bit more than what you might pay for an expensive 1GB USB drive, you can get this tiny, bean-shaped MP3 player from Sony. Of course, it's called the Walkman Bean. It plays, you guessed it, MP3 files, as well as ATRAC3, ATRAC3plus, unprotected WMA and WAV files. They claim 50 hours of use out of a fully charged battery. I say if it gets half that, it would beat the pants off my Nano. It has also has an FM tuner (Nano doesn't have that either). Ok, just to prove I'm not bashing the Nano, the display is just a 1-liner. BTW, the picture really makes it seems a lot larger than it is: the Bean fits comfortably between your 2 fingers, and you could easily hide it in a closed fist.
The bean also comes in a 512MB version and in different colors, including blue, black, white and pink.
Here are some features in a nutshell:
Built-in FM Tuner
Plays MP3, ATRAC3 files; Support for WMA and WAV
Skip-proof design with no moving parts
Multi Language Display; also shows time and date
50-hour battery life
Comes with SonicStage software for managing your music library and Bean.
Price: $132.99
(Please note prices are subject to change and the listed price is correct to the best of our knowledge at the time of posting)