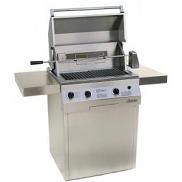 As the July 4th weekend ushers in yet another summer, we'd be remiss if we didn't feature a monster grilling machine. Here's one with a twist, although it might be a bit offensive to some barbeque purists: it's a grill that uses infrared to burn… err.. cook your meat. Before you smirk, check this out: each of its ceramic infrared burners run at 32,000 BTU; these puppies fire up in minutes. Minutes. No more messing around with charcoal and lighter fluid for an hour. This model includes a heavy-duty motorized rotisserie rod and forks. This is a looker too, mirrored stainless steel. In case you're not down with the infrared stuff, you can get a conversion kit to use natural gas instead. The manufacturer, Solaire, makes some larger models in case 32,000 BTU is child's play to you. How does 82,000 BTU sound? Going in the wrong price direction? Ok, how about something under $500?
Features:
Stainless steel main burners with (1) ceramic infrared and (1) double-lanced ported U-burner totaling 32,000 BTU.
Easily removable for cleaning or conversion.
542 sq. In. Total grilling area (362 inch effective grilling area).
Includes 14,000 BTU infrared rear burner with heavy-duty rotisserie motor, spit rod, and forks.
All 304 series, 18-8 stainless steel construction with heli-arc welded seams and no mechanical fasteners.
Double skin hood with stay-cool, full-width stainless steel tubular knurled handle.
Stainless steel V-grilling grids enhance flavor and reduce flare-ups.
Removable stainless steel warming rack and drip tray.
Pushbutton rapid-start electronic ignition.
Hand-polished mirror finish accents.
Limited lifetime warranty on stainless steel construction, main burners and V-grilling grids.
Comes with square cart base. (2) folding side shelves included.
Shipped ready for propane, includes conversion kit for use with natural gas.
Price: $2,179.29
(Please note prices are subject to change and the listed price is correct to the best of our knowledge at the time of posting)