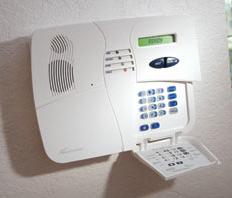 In honor of the 10-day long savings going on now at Smarthome and that Rachel Ray recently featured a number of INSTEON products on her TV show that focused on home security, we're featuring one of those very products again today: the Web-Enabled SecureLinc System. For under $300, you can get yourself this starter security system that has some great features and expandability.
First off, you can install this system yourself quite easily without having to install wires and cables. You just need to plug in the main unit, mount the wireless sensors in the zones you need to protect and then program the system.
Ok, now the cool features… if an alarm is activated, you can get a pre-recorded phone call; you can activate and disarm via a keyfob or a phone call; and finally you can connect the system to the Internet for remote access and control of system and connected cameras. These cool features usually are in higher end systems! I am a sucker for home automation and security systems though…
Programming is easy, using the large, backlit buttons and the LCD screen. You have the option of testing or arming the system at a predefined time, and the siren can squawk when armed or disarmed if you so choose. The Web-Enabled SecureLinc System supports 28 wireless zones and two hardwired zones and a 100-event log. Additional features include a silent/audible panic alarm, two-way voice/listen in enabling options, and even voice response.
When it detects an alarm signal from one of the wireless sensors, the system blasts an 85dB siren that not only alerts your family, but sends would-be thieves fleeing. In addition, you can program it to call any private phone number (i.e.: a friend or neighbor, your office, your wireless phone, etc.) and play a pre-recorded message in your own voice. It doesn't even need its own dedicated phone line! It also supports 24-hour monitoring by commercial alarm monitoring personnel, who can dispatch police, fire or medical response (depending on the type of alert it receives). It can even call you for non-alarm events. For example, want to know that your kids arrived home safely from school? The system can call you at the office to let you know that your child successfully disarmed the alarm.
Verify the status of lighting devices, reprogram security functions, and even control their home appliances and lighting anywhere and any time. Whether you're at work or on vacation, you can easily access the Web-Enabled SecureLinc System via mobile and regular phones. Connect your SecureLinc to a PowerLink (sold separately) for remote control of your security system from any Internet-connected computer in the world. The PowerLink also allows remote or on-site visual surveillance, connecting to up to four cameras. The PowerLink and cameras will be available soon.
For maximum convenience, the SecureLinc can even operate 15 X10-controlled lights or appliances (or 15 groups of lights or appliances), including 2-way appliances and those with dim/bright features. In addition to scheduling your X10 appliances to prepare your home for your arrival at night or from a vacation, you can also use the X10 timer function to make your home look occupied when you're away. Or you can have it turn the X10-controlled porch light on for four minutes when you arm or disarm the system, so that you'll never have to enter or leave your house in the dark. Note: To access these features, you'll need the X10 Cable & Interface, sold separately.
The Web-Enabled SecureLinc System comes standard with one four-button wireless keyfob, two wireless magnetic window/door contacts, and one 40-Pound Pet Immune Wireless Motion Detector, but additional contacts, detectors and keyfobs may be purchased separately. Transmit signals to your Web-Enabled SecureLinc System using the Keyfob Transmitter. Upon pressing any of the four recessed buttons, this keyfob transmits a CodeSecureâ"¢ digital sequence along with a 4-bit function code associated with the button that was pressed. Different digital sequences are transmitted each time, so that malicious code grabbing is almost impossible. The included Wireless PIR Detector is a compact, animal-immune detector, so pets up to 40 pounds won't set off the alarm. With a coverage area of 30 by 30 feet, this fully supervised detector will keep an eye on your home when you're not around. Upon detection of an intruder, the on-board transmitter instantly sends an alert to the Web-Enabled SecureLinc System.
Price: $299.99
(Please note prices are subject to change and the listed price is correct to the best of our knowledge at the time of posting)